Source: Portal
We all enjoy playing freshly released game updates as soon as possible. And there is a way all of us could do so! Update pre-downloading will decrease the load on the game services on the day of the official release. After pre-downloading the update, you will be able to join the game right after the release – minus the delay and long wait.
The pre-downloading will be split into 2 stages:
Stage 1: Starts on 6 March, 2018
Stage 2: Starts on 14 March, 2018
Please note that this is just a test of a new process. It's not guaranteed that this distribution method will be introduced permanently.
What is preloading?
Basically, you're downloading files for a future update in advance (approximate size: 400 MB for the SD client and 600 MB for the HD client). These files will be installed only on the day of the official release. The installation will be performed after starting the launcher, once the work on the game servers is over.
Does preloading affect the possibility of playing World of Tanks?
Not at all, you will be able to play World of Tanks whenever you like. However, if this function is enabled, the download process will be automatically paused and resumed right after quitting the game. You can pause the download at any moment.
Where are the update files stored? Can I copy them to a portable device and share them with a friend?
Yes, you will be able to share them with your friends, since the update files will be stored in the standard folder on your computer С:\Games\World_of_Tanks\Updates (or, if your friend has installed the game in another folder Your drive:\Games\World_of_Tanks\Updates).
If I click the Pause button in the launcher, will the download continue the next time or start anew?
It will resume the download.
Can I select SD/HD options during preloading?
No, only files that correspond to the currently installed version will be downloaded.
Where should I report any technical issues if they arise during the preloading?
We will answer all your questions regarding this topic in the forum thread about the news.
What will happen if I download the update package for the SD client on the first stage and switch to the HD client on the launcher/WGC settings later?
After switching to the HD client, the download will begin for the HD package of Update 9.22 and the HD version of 1.0 (part 1). On 14 March, the SD client of 1.0 (part 2) and HD client of 1.0 (part 2) becomes available.
---
Comandanti!
Sappiamo bene che aspettare la conclusione del download e dell'installazione di un aggiornamento il giorno del suo rilascio non è piacevole. Così abbiamo recentemente aggiunto l'opzione di scaricare gli aggiornamenti in anticipo. Siccome l'aggiornamento 1.0 è di grandi dimensioni si potrà scaricare anticipatamente in più fasi.
Il download anticipato ridurrà il carico dei server di gioco il giorno del rilascio ufficiale. I giocatori che avranno scaricato in anticipo l'aggiornamento potranno giocare da subito, fin dal momento del rilascio, senza ritardi e noiose attese.
Ecco come funziona.
Launcher

Centro dei giochi di Wargaming
Assicuratevi di aver cliccati su "Attiva il download per gli aggiornamenti in arrivo". Poi cliccate su "Applica" per salvare le modifiche.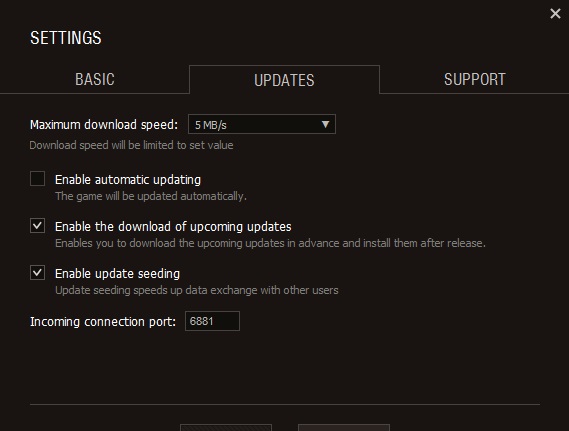 Vi ricordiamo che questa procedura al momento è in fase di test, pertanto non è detto che questo metodo di distribuzione verrà implementato in via definitiva.
Che cosa sta facendo?
In poche parole, state scaricando i file per futuri aggiornamenti in anticipo (grandezza approssimativa dell'aggiornamento 1.0: 5.65 GB per il client SD e 6.29 GB aggiuntivi per quello HD). Questi file saranno installati solo il giorno del rilascio ufficiale. L'installazione verrà effettuata dopo l'avvio del launcher una volta che il lavoro sul server è stato terminato.
Il download anticipato dell'aggiornamento 9.22 (errore, è la 1.0, ndt) influirà sulla possibilità di giocare a WoT in qualche modo?
No, i giocatori potranno giocare a WoT quando vogliono. Tuttavia, con questa funzione attivata, il download verrà messo in pausa all'apertura del gioco e riprenderà automaticamente dopo la sua chiusura. È possibile mettere in pausa il processo di download in qualsiasi momento.
Cosa succede se scarico la versione SD nella Fase 1 ma poi cambio a quella HD nella Fase 2?
In questo caso sia la versione HD dell'aggiornamento attuale che quella dell'aggiornamento 1.0 della prima Fase verranno scaricate. Dopodiché le versioni SD e HD dell'aggiornamento 1.0 della fase successiva saranno scaricati in anticipo.
Dove verranno salvati i file dell'aggiornamento? Posso copiarli su una memoria esterna per condividerli con un amico?
Sì, potrai condividerli con i tuoi amici in quanto i file dell'aggiornamento verranno salvati nel percorso base sul tuo computer: С:\Games\World_of_Tanks\Updates (o, nel caso il tuo amico avesse installato il gioco in un altro percorso: Il tuo disco:\Games\World_of_Tanks\Updates).
Se clicco sul pulsante Pausa nel launcher, il download continuerà al successivo avvio o dovrò iniziarlo da capo?
Riprenderà il download.
Posso selezionare le opzioni SD/HD durante il download anticipato?
No, verranno scaricati solo i dati che corrispondono alla versione attualmente installata.
Dove posso inviare una segnalazione se dovessero sorgere problemi durante il download anticipato?
Risponderemo a tutte le domande a riguardo nella discussione delle novità sul forum.
Si parte!