The 121B Chinese medium tank is a multi-purpose vehicle indeed. It will rush in to attack, block an enemy's shell, and inflict massive damage during a counterattack. An ideal feature of this Tier X vehicle is permanent enrichment. This tank brings more credits compared to other same-tier vehicles.
More about the 121B
It's important not to confuse the researchable 121 from the Chinese tech tree with the 121B. They are two different vehicles. They look quite alike, have the same front armor and top speed, but their armament differs greatly.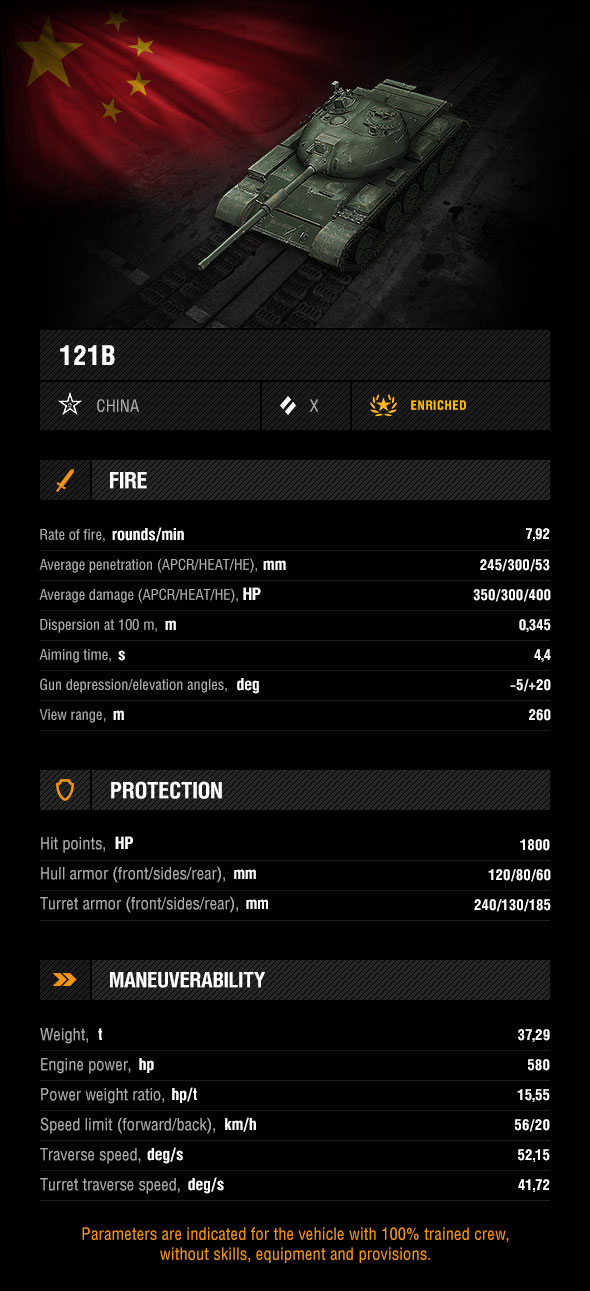 As you can see from the characteristics, the 121B is a transition variant between the large-caliber 121 and the fast-firing Soviet T-62A and Object 140. The 121 is armed with a gun more suitable for heavy tanks, while the 121B features a more universal 105 mm gun. It inflicts 50 HP of damage less, but has a higher rate of fire.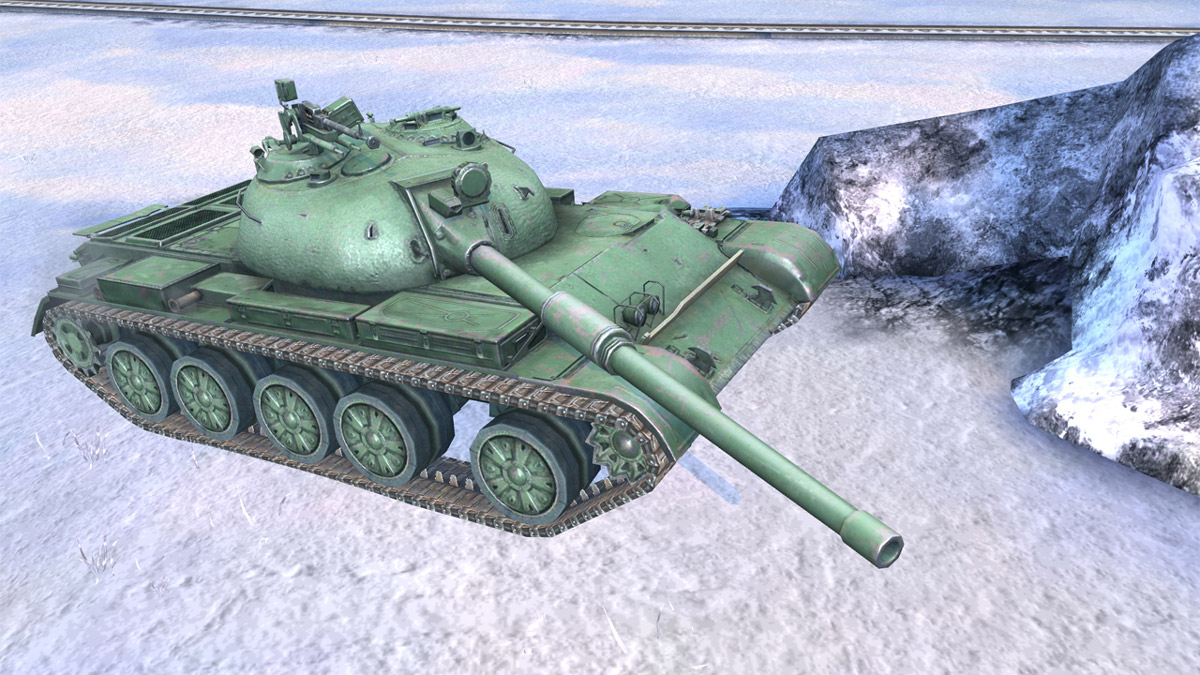 The 121B surpasses its Soviet opponents in front hull armor thickness by as much as 20 mm. The new tank deals 40 HP of damage more per shot, but has a lower rate of fire. Thanks to its characteristics, the 121B will fit in with any team and successfully cooperate with other medium tanks. However, it can also show perfect performance alone, when necessary.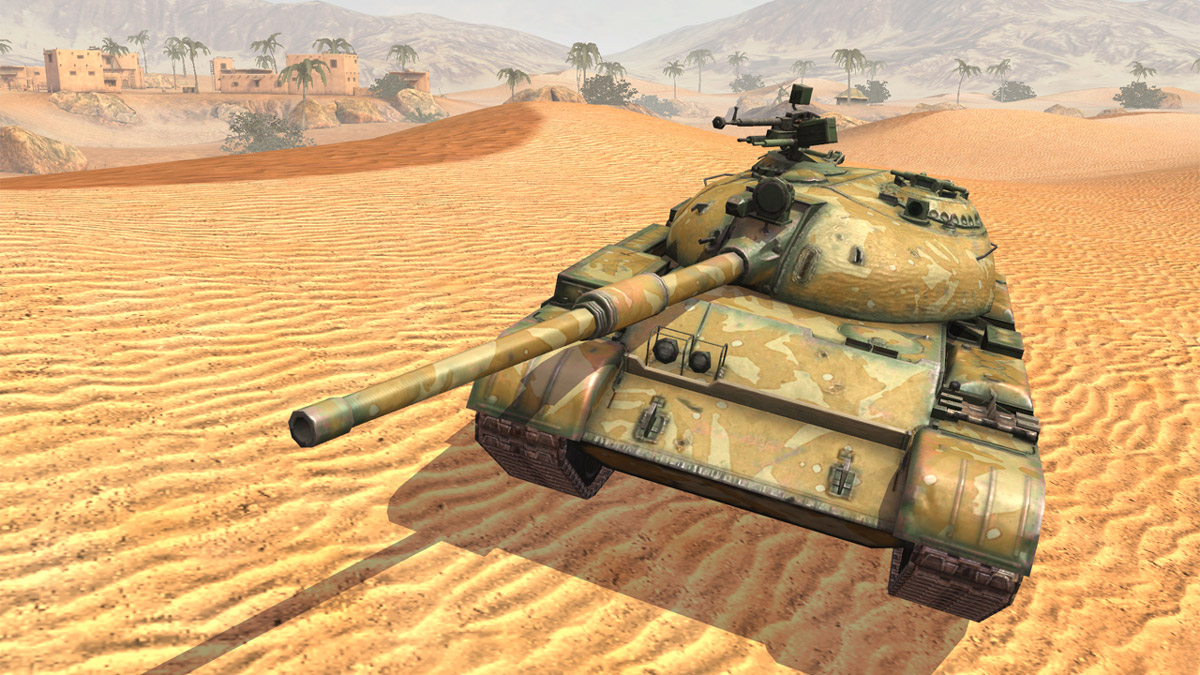 The 121B is not a Premium tank. Its profitability corresponds to that of a Tier X researchable vehicle with activated enrichment. The 121B characteristics may be adjusted in future if it is necessary for game balance purposes.
---
Il carro medio cinese 121B è davvero un veicolo multiuso. Si precipiterà dentro per attaccare, bloccare il proiettile nemico e infliggere danni ingenti durante un contrattacco. Una caratteristica ideale di questo veicolo Tier X è l'arricchimento permanente. Questo carro porta più crediti rispetto ad altri veicoli dello stesso livello.
Maggiori informazioni su 121B
È importante non confondere il 121 ricercabile dall'albero tecnologico cinese con il 121B. Sono due veicoli diversi. Sembrano abbastanza simili, hanno la stessa corazza anteriore e la massima velocità, ma il loro armamento è molto diverso.
Come potete vedere dalle caratteristiche, il 121B è una variante di transizione tra il grande calibro 121 e il T-62A sovietico a tiro rapido e l'obj 140. Il 121 è armato con un cannone più adatto per i carri armati pesanti, mentre le caratteristiche del 121B col calibro da 105 mm sono più universali. Infligge 50 HP di danni in meno, ma ha un tasso di fuoco più alto.
Il 121B supera gli avversari sovietici nello spessore della corzza dello scafo anteriore di ben 20 mm. Il nuovo carro infligge 40 HP di danno in più per colpo, ma ha una velocità di fuoco inferiore. Grazie alle sue caratteristiche, il 121B si adatta a qualsiasi squadra e collabora con successo con altri carri medi. Tuttavia, può anche mostrare prestazioni perfette da solo, quando necessario.
Il 121B non è un carro Premium. La sua redditività corrisponde a quella di un veicolo ricercabile Tier X con arricchimento attivato. Le caratteristiche del 121B possono essere modificate in futuro se è necessario ai fini del bilanciamento del gioco.