The GSOR3301 AVR FS is a typical representative of his line, with all the special features of British light tanks, such as small size and good level of camouflage. As for his firepower, in the top configuration it has a 90mm gun and you will like it very much because:
It has 232mm penetration on standard ammunition and 254 on APCR.
It has a great stabilization for as long as the vehicle does not move.
dispersion: 0.36 per 100m
the aiming time is just 1.9 seconds.
Nevertheless, these pros should not overwhelm us with certain disadvantages resulting from the need to balance the vehicle: the same rate of fire (6.32 projectiles per minute) and only average stabilization. In addition, the armor of this tank can be described in different words, but solid or hard will not be among them. GSOR has 1250 HP and a crew of three. Like its next level at level X, this vehicle is best suited as a passive scout and fire support, because it has everything you need to deal with these roles: small size, 390 m view range and a large specific power (37.2 KM / t). GSOR can quickly change position on the battlefield and appear where you need firepower or quick reconnaissance.
---
Il GSOR3301 AVR FS è un tipico rappresentante della sua linea, con tutte le caratteristiche speciali dei carri armati leggeri britannici, come le dimensioni ridotte e il buon livello di mimetizzazione. Per quanto riguarda la sua potenza di fuoco, nella configurazione superiore ha una pistola da 90 mm e ti piacerà molto perché:
Ha una penetrazione di 232mm su munizioni standard e 254 su APCR.
Ha una grande stabilizzazione per tutto il tempo in cui il veicolo non si muove.
dispersione: 0,36 per 100m
il tempo di mira è di soli 1,9 secondi.
Tuttavia, questi vantaggi non dovrebbero travolgerci con determinati svantaggi derivanti dalla necessità di bilanciare il veicolo: la stessa velocità di fuoco (6,32 proiettili al minuto) e la stabilizzazione solo media. Inoltre, l'armatura di questo serbatoio può essere descritta in parole diverse, ma non ci sarà né solida né dura. GSOR ha 1250 HP e un equipaggio di tre. Come il prossimo livello a livello X, questo veicolo è più adatto come scout passivo e supporto antincendio, perché ha tutto ciò che serve per affrontare questi ruoli: dimensioni ridotte, raggio di 390 m e grande potenza specifica (37,2 KM / t ). GSOR può rapidamente cambiare posizione sul campo di battaglia e apparire dove hai bisogno di potenza di fuoco o di ricognizione rapida.
---
Tier: LT-9, UK, standard
HP: 1,250
Engine power: 250 hp
Weight: 6,722 t
Maximum load: 7,800 t
Power per ton: 37,19 KM / t
Maximum speed / Reverse speed: 65 / -25 km / h
Rotation speed: 43 ° / s
Turret rotation speed: 44.8 ° / s.
Ground resistance: 0.767 / 0.863 / 1.342 View
View range: 390 m
Signal range: 750 m
Hull armor: 35/25/20
Tower armor: 70/30/20
Gun: 90 mm Cockerill
Damage 240/240/320
Penetration 232/254/42
Rate of fire: 6.451
Average damage min 1 548.3
reload time: 9.301 sec
Dispersion of 100 m: 0.345
Aiming time: 1.82 s
Depression / elevation: -10 ° / + 35 °
Three-man crew: Commander, Target, Driver-mechanic.
Scattering of the Sight:
after firing works: 3,356;
during turret rotation: 0.096;
while the vehicle is moving: 0.153;
during vehicle rotation: 0.153;
during turret rotation with the maximum speed: 4.12;
at the maximum vehicle speed: 9.97;
at the maximum vehicle rotation speed: 6.6.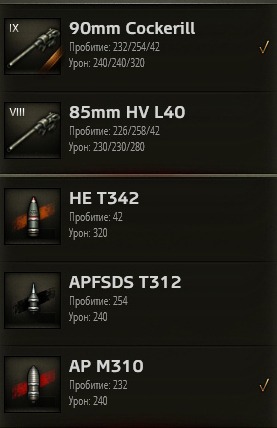 Gun: 85 mm HV L40
Damage:
230/230/280
Penetration: 226/258/42
Camouflage value:
camouflage of a fixed tank: 32.9%;
tank camouflage in motion: 32.9%;
camouflage of an immobile tank shooting: 7.83%;
camouflage of a shooting tank in motion: 7.83%.