For the third time, Wargaming is working with the charity World Child, specializing in helping children affected by armed conflict. To raise funds, the Minsk giant decided to prepare a special stylization set with the name "Dove of Peace", which will be available from November 8th to November 15th.
At the same time, players can use a special bonus code, valid from November 8:
111111
Provides a premium account for one day. However, in order to receive the prize, in addition to entering the code itself, players must redeem it on 11 November between 11:11 and 11:30.
source – rykoszet.info
---
Per la terza volta, Wargaming sta lavorando con l'organizzazione benefica World Child, specializzata nell'aiutare i bambini colpiti da conflitti armati. Per raccogliere fondi, il gigante di Minsk ha deciso di preparare uno speciale set di stilizzazione con il nome di "Dove of Peace", che sarà disponibile dall'8 novembre al 15 novembre .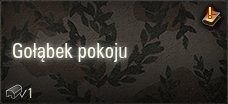 Allo stesso tempo, i giocatori potranno utilizzare uno speciale codice bonus, valido dall'8 novembre :
111111
Fornisce un account premium per un giorno . Tuttavia, per ricevere il premio, oltre a inserire il codice stesso, i giocatori dovranno riscattarlo l'11 novembre tra le 11:11 e le 11:30 .