AEP 1 is the main prize for the Front Line. It has several sets of tracks, arranged one behind the other, not next to each other. This peculiarity does not affect the mechanics of the game: if one of the tracks is destroyed, the tank is immobilized.
Then, AE Phase I comes with two special features: firstly, it is an event tank, which frees you from the need to train the crew. The second thing is a mechanic: a built-in large repair kit. It works like a normal big repair kit, but when you're in the garage you do not have to buy a new one because it's automatically topped up.
---
AEP 1 è il premio principale per Front Line. Ha diversi set di cingoli, disposti uno dietro l'altro, non uno accanto all'altro. Questa peculiarità non influisce sulla meccanica del gioco: se uno dei cingoli viene distrutto, il carro viene immobilizzato.
Quindi, AE Phase I ha due caratteristiche speciali: in primo luogo, è un carro evento, che ti libera dalla necessità di addestrare l'equipaggio. La seconda cosa è una nuova meccanica: un kit di riparazione di grandi dimensioni incorporato. Funziona come un normale kit di riparazione di grandi dimensioni, ma quando sei nel garage non devi comprarne uno nuovo perché viene automaticamente ricaricato.

AEP 1. Initial parameters:
Tier: HT-9, USA, special tank 
HP: 1 800
Engine power: 900 hp 
Weight: 56.00 t 
Maximum load: 60.00 t 
Power per tonne: 16.07 KM / t 
Maximum speed / Reverse speed: 35 / -12 km / h 
Rotation speed: 30 ° / s 
Turret rotation speed: 33.4 ° / s 
Ground resistance: 1.151 / 1.247 / 2.301 
Range of view: 390 m 
Signal range: 745 m
Hull armor: 120,7 / 88,9 / 38
Tower armor: 292,1 / 101,6 / 50
Gun: 120 mm Gun M58A
Damage 400/400/515 
Penetration 258/340/60 
Rate of fire: 5.006
Average damage per minute: 2 002.3 
reload time: 11.986 sec 
Dispersion at 100 m: 0.364
Aiming Time: 2.59 s
Depression / elevation: -10 ° / +15 °
The four-man crew: Commander, Sight, Driver-mechanic, Loader.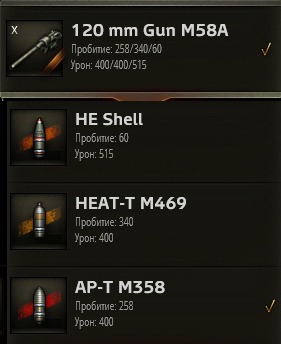 Scattering of the Sight:
after firing works: 3,836;
during turret rotation: 0.077;
while the vehicle is moving: 0.153;
during vehicle rotation: 0.153;
during turret rotation with the maximum speed: 2.45;
at the maximum vehicle speed: 5.37;
at the maximum vehicle rotation speed: 4.6.
Camouflage value:
fixed tank camouflage: 9.2%;
tank camouflage in motion: 4.6%;
camouflage of an immobile tank shooting: 1.66%;
camouflage of a shooting tank in motion: 0.83%.
source – wotexpress and rykoszet.info