T6 Medium (USA, MT-4) – a new tank in the tech tree of USA. It will appear with the release of balance 3.0 to the main servers (approximately, the very end of spring).
It will be located between the M3 Stuart and T1 Heavy Tank. This is a tank from the old collection of ready-made, but failed tanks. His icon already somehow shone in the year 2012/2013. Then the vehicle was called: T6 M.
Crew 5 people: Commander, Gunner, Driver, Radio operator, Charger.
Despite the fact that the M3 medium tank was launched into production in the summer of 1941, in the winter of the same year work began on a more advanced machine with a 75 mm gun in a rotating turret. By the fall of 1941, two prototypes were built. The tank was generally satisfied with the military, but improvements were recommended. In particular, the tank got rid of the side doors and the machine-gun commander's turret. On September 5, 1941, the Arms Committee recommended the standardization of the tank under the Medium Tank M4 index.
---
T6 Medium (USA, MT-4) – un nuovo mezzo nell'albero tecnologico degli Stati Uniti. Apparirà con il rilascio di Balance 3.0 ai server principali (approssimativamente, alla fine della primavera).
Si troverà tra M3 Stuart e T1 Heavy Tank. Questo è un carro della vecchia collezione di carri armati pronti, ma falliti. La sua icona ha già brillato in qualche modo nell'anno 2012/2013. Allora il veicolo fu chiamato: T6 M.
Equipaggio 5 persone: comandante, cannoniere, autista, operatore radio, caricatore.
Nonostante il fatto che il carro medio M3 fu lanciato in produzione nell'estate del 1941, nell'inverno dello stesso anno iniziarono i lavori su una macchina più avanzata con un cannone da 75 mm in una torretta rotante. Nell'autunno del 1941 furono costruiti due prototipi. Il carro armato era generalmente soddisfacente per l'esercito, ma si raccomandavano miglioramenti. In particolare, il carro si è sbarazzato delle porte laterali e della torretta del comandante con mitragliatrice. Il 5 settembre 1941, il Comitato Armi raccomandò la standardizzazione del mezzo sotto la denominazione di Medium Tank M4.
---
T6 medium. Initial characteristics :
Tier: MT-4, USA, standard
HP: 690
Engine power: 460 hp
Weight: 27.31 t
Maximum load: 28.50 t
Power per ton: 16.84 HP / t
Maximum speed / Reverse speed: 34 / -14 km / h
Swing speed: 34 ° / s
Turret rotation speed: 38.6 ° / s
Ground resistance: 0.959 / 1.295 / 1.87 View
View range: 340 m
Signal range: 641.40 m
Hull armor: 44.5 /37/37
Turret armor: 76.2 / 50.8 / 50.8
Gun: 105 mm M4
Damage: 203/350
Penetration: 0/102
Rate of fire: 5.688
Average damage per minute: 1 990.9
Reload time: 10.548 s
Dispersion at 100 m: 0.479
Aiming time: 2.97 s
Depression / elevation: -12 ° /
Gun: 75 mm M3 Tank Howitzer
Damage: 90/110
Penetration: 0/92
Gun: 75 mm Gun M3
Damage: 130/110/90
Penetration: 92/127/0
Gun: 75 mm Gun M2
Damage:130/110/90
Penetration: 90/125/0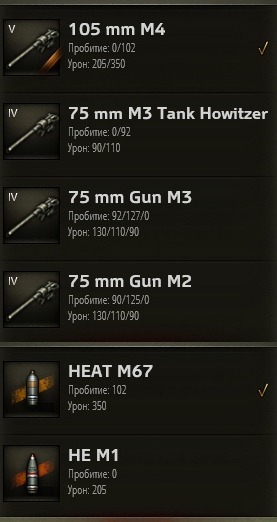 A crew of 5: Commander, Mechanic Driver, Gunner, Radio Operator, Loader.
Crosshair Scatter:
after firing: 3.836;
during turret rotation: 0.163;
while the vehicle is moving: 0.259;
during vehicle rotation: 0.259;
during turret rotation at maximum speed: 6.03;
at the maximum vehicle speed: 8.8;
at the maximum vehicle rotation speed: 8.8.
Camouflage Value:
fixed tank camouflage: 15.5%;
tank camouflage in motion: 11.6%;
fixed tank camouflage: 3.41%;
moving tank camouflage: 2.55%.