We have a new tank, new premium level 8, on the WOT super test.
T77 (USA, MT-8, prem, drum for 3 shells) came out today for the super test. This is a premium tank. The T77 tank is the T57 Heavy Tank, which lost weight.
Full specifications, tank model and description
The project of the American medium tank based on the serial M48 using developments on the T54, developed in the mid-1950s. Several towers were built, but in 1957 the project was canceled due to constant changes in requirements and delayed work, and at the beginning of 1958 the towers were decommissioned.
---
Abbiamo un nuovo carro, nuovo livello premium 8, sul super test WOT. T77 (USA, MT-8, prem, drum per 3 shell) è uscito oggi per il super test. Questo è un carro premium. Il carro T77 è il pesante T57, che ha perso peso.
Specifiche complete, modello e descrizione
Il progetto del carro medio americano basato sull'M48 utilizzando e successivi sviluppi sul T54, sviluppato a metà degli anni '50. Furono costruite diverse torri, ma nel 1957 il progetto fu cancellato a causa di continui cambiamenti nei requisiti e ritardi nei lavori, e all'inizio del 1958 le torri furono ritirate.
---
Tier: MT-8, USA, premium
HP: 1,350
Engine power: 800 HP
Weight: 49.00 t
Maximum load: 52.00 t
Power per ton: 16.33 HP / t
Maximum speed / Reverse speed: 48 / – 18 km / h
Rotation speed: 33.0 ° / s
Turret rotation speed: 39.6 ° / s
Ground resistance: 1.151 / 1.247 / 2.301
view range: 380 m
Signal range: 745 m
Hull armor: 120 / 76.2 / 35
Turret armor: 152/70/50
Gun: 120 mm Gun T179 in Mount 169
Damage 360/360/460
Penetration 215/270/60
Rate of fire: 4,451
Average damage per min: 1 602.4
shells in cartridge: 3 units.
Load time between shots: 2.0 s
time full reload: 36.438 s
Spread at 100 m: 0.355
Aiming time: 2.21 s
Gun depression / elevation limit: -8 ° / +15 °
Number of shells: 36 pcs
Projectile speed: 1 143 m / s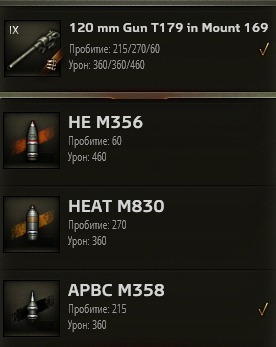 Four-man crew: Commander, Mechanic Driver, Gunner and Loader.
Crosshair Scatter:
after firing: 4.315;
during turret rotation: 0.115;
during vehicle movement: 0.211;
during vehicle rotation: 0.211;
during turret rotation at maximum speed: 4.37;
at the maximum vehicle speed: 10.13;
at the maximum vehicle rotation speed: 6.96.
Camouflage Value:
stationary camouflage: 20.1%;
tank camouflage in motion: 15.1%;
stationary tank camouflage: 3.62%;
moving tank camouflage: 2.72%.