Today, a new American Tier VI tank destroyer, T78, is heading for a closed test. It is a quite mobile vehicle with a tower that can make a full 360-degree rotation. Its another advantage is a quite efficient and easy-to-operate gun. T78 has a negligible armor, hence everything goes into it like butter.
"Okay" You probably say, "A mobile American Tank Destroyer with a pretty good gun but no armor. Something reminds me! "
And you have the most right here. In terms of how the game is, the T78 is almost the same as the Hellcat, although there are some differences between them, less mobility is one of them. On the other hand, the T78 reloads faster, and has better stabilization during movement than with the Hellcat.
source – rykoszet.info
---
Oggi, un nuovo cacciacarri americano Tier VI, T78, si sta dirigendo verso un test chiuso. È un veicolo abbastanza mobile con una torre che può compiere una rotazione completa a 360 gradi. Un altro vantaggio è un cannone abbastanza efficiente e facile da usare. Il T78 ha una corazza trascurabile, quindi tutto va come il burro.
"Okay" Probabilmente dici "Un Tank Destroyer mobile USA con un cannone piuttosto buono ma senza corazza. Qualcosa mi ricorda!"
E avete più ragione qui. In termini di come è il gioco, il T78 è quasi lo stesso di Hellcat, anche se ci sono alcune differenze tra loro, meno la mobilità è una di queste. D'altra parte, il T78 ricarica più velocemente e ha una migliore stabilizzazione durante il movimento rispetto a Hellcat.

T78. Characteristic:
Tier: TD 6, USA, premium
HP: 600
Engine power: 550 hp
Weight: 25,155 t
Maximum load: 26.50 t
Power per ton: 21.86 KM / t
Maximum speed / Reverse speed: 55 / -14 km / h
Rotation speed: 30 ° / s
Turret rotation speed: 20.9 ° / s
Ground resistance: 1.055 / 1.247 / 2.205
Range of view: 370 m
Radio range: 750 m
Hull armor: 25.4 / 25.4 / 19
Tower armor: 76/25/25
Gun: 90 mm Gun M3
Damage 240/240/320
Penetration 160/221/45
Rate of fire: 7.539
Average damage min: 1 809.3
reload time: 7.959 sec
Dispersion at 100 m: 0.364
aiming time: 1.73 s
depression / elevation: -10 ° / +20 °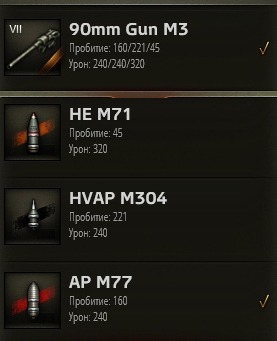 A four-man crew: Commander, Sight, Driver-mechanic, Loader
Scattering of the Sight:
after firing works: 3,356;
during the rotation of the tower: 0.153;
while the vehicle is in motion: 0.24;
during vehicle rotation: 0.24;
during turret rotation with the maximum speed: 3.07;
at the maximum vehicle speed: 13.18;
at the maximum vehicle rotation speed: 7.19.
Camouflage value:
stationary tank camouflage: 31.8%;
tank camouflage in motion: 19.1%;
camouflage of a stationary tank shooting: 7.57%;
camouflage of a shooting tank in motion: 4.55%.
Summing up, the best way to play T78 is to change positions often and to shoot your opponent dynamically.
As usual, the statistics of this vehicle may change depending on the test result. Keep up to date and let you be lucky in the upcoming battles.
---
Riassumendo, il modo migliore per giocare a T78 è cambiare spesso posizione e sparare dinamicamente all'avversario.
Come al solito, le statistiche di questo veicolo possono variare in base al risultato del test. Tieniti aggiornato e lasciati essere fortunato nelle prossime battaglie.