Since the U.S. cruiser branch was split into 'heavy' and 'light' sub-branches, some of the ships have been moved and now reside at new Tiers in the Tech Tree.
The branch splits starting from cruiser Omaha. Now, progression through the sub-branches will be consistent and logical, and the Commander skills will be applicable to the entire selected line of cruisers.
Heavy cruisers are powerful ships that can deal a serious amount of damage with a single salvo, have strong AA defense capabilities, and boast a substantial HP pool. They carry 203 mm main battery guns that have a reduced chance of an AP shell ricochet. Most representatives of the branch are 'old fellows' in World of Warships, some of which were moved one tier down. Despite this, the ships' performance characteristics remained mostly intact and they will be more efficient overall.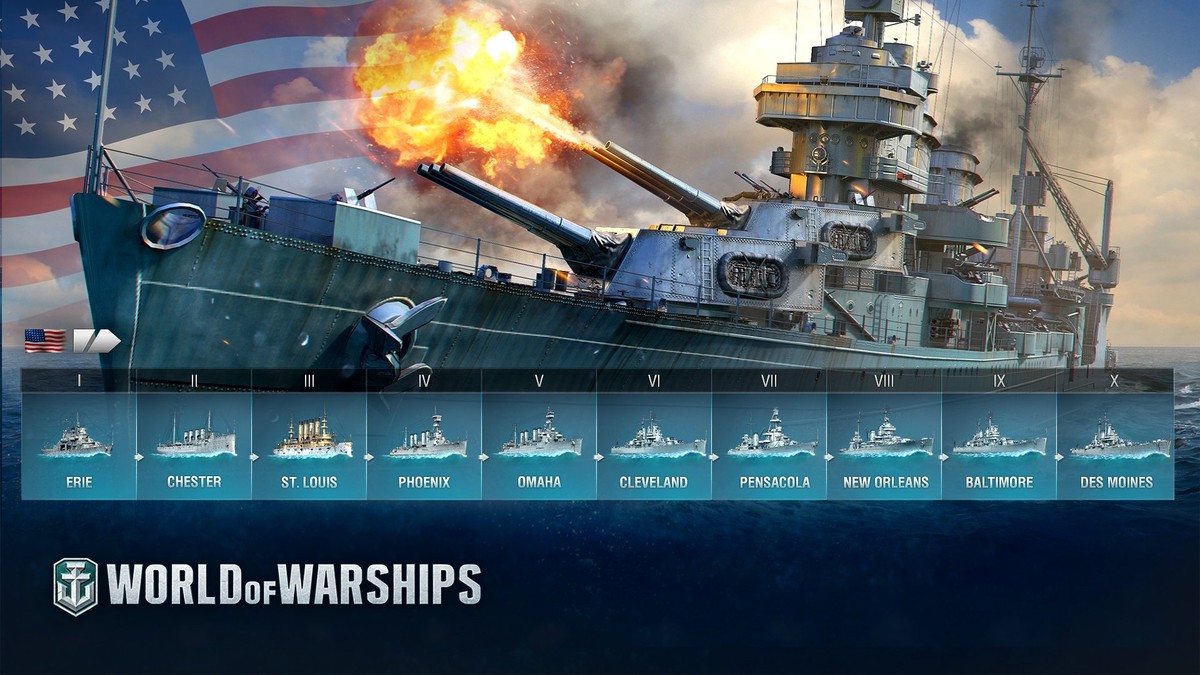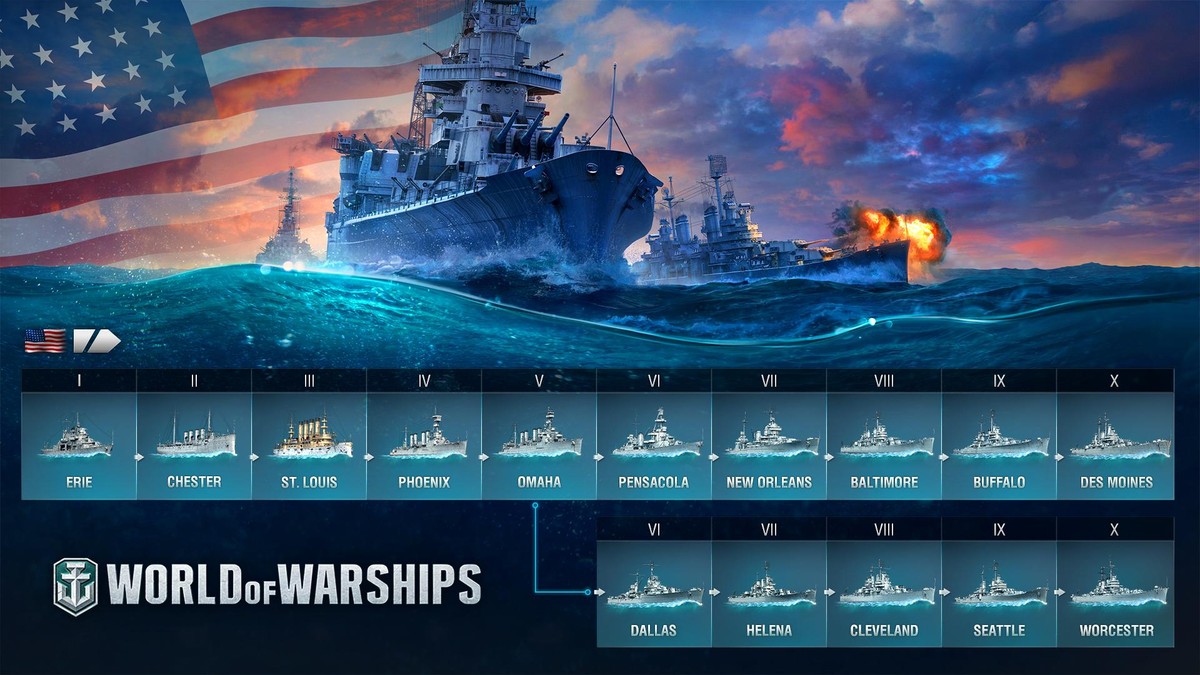 ---
Pensacola, Tier VI
The ship moved from Tier VII to Tier VI. She still has the same firepower, making her a threat for enemy cruisers and destroyers, but you should avoid turning the guns from one side to the other too often as well as entering close quarters battle as the ship's concealment and turret traverse speed were reduced slightly.
Available consumables:

Damage Control Party

Defensive AA Fire

Hydroacoustic Search

Catapult Fighter
---
New Orleans, Tier VII
The ship stepped down from Tier VIII to Tier VII, and can boast pretty good maneuverability and concealment. Her main guns' traverse speed is higher than that of Pensacola. On the other hand, the ship was stripped of Surveillance Radar.
Available consumables:

Damage Control Party

Defensive AA Fire

Hydroacoustic Search

Catapult Fighter
---
Baltimore, Tier VIII
Baltimore descended from Tier IX to Tier VIII, but she still enjoys the same advantages she had before. The reload time of her main guns is just 10 seconds, and they are capable of delivering super heavy Mk.21 AP shells. Another of the ship's strong points is the 27 mm thick plating on both ends. Finally, you still have the 'Surveillance Radar' consumable at your disposal, which will help you clear reckless enemy destroyers and cruisers from the areas covered with smoke.
Available consumables:

Damage Control Party

Defensive AA Fire

Hydroacoustic Search

Catapult Fighter

Surveillance Radar
---
Des Moines, Tier X
The good old Des Moines keeps all her advantages under her belt while remaining at the same tier. If you haven't yet grabbed your chance to try this American, here are her main strong points: the high reload speed of her main battery guns provides an impressive average damage value, the arching trajectory of her AP shells combined with their high armor penetration capability allows you to deal massive damage to your enemy from behind cover, and the powerful AA defenses inspire fear among enemy aircraft, all these are paired with the wide choice of consumables in four slots.
Available consumables:

Damage Control Party

Defensive AA Fire

Hydroacoustic Search

Catapult Fighter

Spotting Aircraft

Surveillance Radar

Repair Party
And now let's take a close look at the most interesting changes!
---
Buffalo, Tier IX
Meet the 'newcomer' among the heavy cruisers! Buffalo is armed with familiar and dangerous 203 mm 55 Mk.15 main guns. She inherited her damage per second value from the 'old' Baltimore, but now her salvo has become weightier. A full broadside salvo from all guns (a total of 12 shells) will cause a lot of trouble for the enemy, but mind the moderate reload speed for the cruiser's main battery, and a limited firing range, especially when this parameter is not enhanced by mounting relevant upgrades. Nevertheless, her high number of hit points and decent armor protection allow this ship to absorb hits from most cruisers and destroyers. You'll also appreciate a generous choice of consumables. Buffalo has quite a high citadel, so remember this when maneuvering.
Available consumables:

Damage Control Party

Defensive AA Fire

Hydroacoustic Search

Catapult Fighter

Spotting Aircraft

Surveillance Radar

Repair Party
Historical Reference
In 1940, the US Bureau of Ships was developing several enhanced designs under the 35-knots cruiser project. On July 31, 1940, the performance specifications were delivered for three versions of the 'enhanced Wichita' cruiser. On September 16, engineers presented three sketch designs codenamed CA-A, CA-B, and CA-C. The first version featured reinforced armor that was meant to withstand a hit from a new 335-pound shell. The other two versions added an extra main battery turret. CA-A was in fact the same work that was being done under the Baltimore project at the time. CA-C featured a water displacement of over 20,000 tons and was getting beyond the size limits of a heavy cruiser, thus falling under the category of a 'large cruiser'. This said, the CA-B design seemed to be a preferred choice, but there were some difficulties with the installation of the 150,000 hp propulsion into the ship's hull that was necessary to achieve the required 35 knots; but the design could offer 'only' 33 knots for the ship's current size. Finally, it was decided not to build the ship using these designs.
Ship Model Description
Under the CA-B version, the ship's hull resembles that of Baltimore and Cleveland, but has an extended forecastle. The performance characteristics set by the design were too optimistic, and it was impossible to meet them during development. Cruiser Des Moines was used as a prototype for calculating weight loads. It was Des Moines from which the propulsion with four boilers was borrowed, which allowed her to produce the speed of 32 knots in the 18,000-ton displacement trial configuration. Due to excessive overloading, the ship received neither Des Moines' main turrets nor torpedo tubes. The ship carried small caliber AA artillery conventional for 1943–1945: twin and quadruple 40 mm Bofors and 20 mm Oerlikon guns.
---
Cleveland, Tier VIII
Cleveland was moved to Tier VIII in the light cruiser branch! Her reload time and the traverse speed of the main guns were improved, and, as a result, she received greater average damage per minute. Besides this, the ship's HP value was increased and some consumables were added. Though Cleveland is not armed with a record number of guns, she benefits from their great firing range and rate of fire. You'll be able to have the 'Hydroacoustic Search' and 'Surveillance Radar' consumables mounted on your ship at the same time, if you are prepared to install the latter at the expense of 'Spotting Aircraft'. If you prefer to favor concealment, then you'll be pleased to hear that, if you focus on these characteristics, your ship's detectability range will be comparable to the distance at which it can spot targets with Surveillance Radar.
Available consumables:

Damage Control Party

Hydroacoustic Search

Defensive AA Fire

Spotting Aircraft

Surveillance Radar
---
Dato che il ramo degli incrociatori statunitensi è stato suddiviso in due sotto-rami di incrociatori "pesanti" e "leggeri", alcune delle navi sono state spostate e hanno subito una variazione di livello.
La suddivisione del ramo inizia in corrispondenza dell'incrociatore Omaha. Ora la progressione all'interno dei sotto-rami sarà più coerente e logica, e le abilità del Capitano torneranno utili per l'intera linea scelta.
Gli incrociatori pesanti sono navi potenti, che possono causare un notevole ammontare di danno con una singola bordata, hanno robuste capacità contraeree e dispongono di una buona quantità di HP. Sono equipaggiati con cannoni principali da 203 mm, con ridotte possibilità di rimbalzo dei proiettili AP. Alcuni tra i rappresentanti di questa linea sono vecchie conoscenze di World of Warships, in qualche caso spostati indietro di un livello. Nonostante ciò, le prestazioni di queste navi sono rimaste pressoché invariate e complessivamente saranno più efficienti.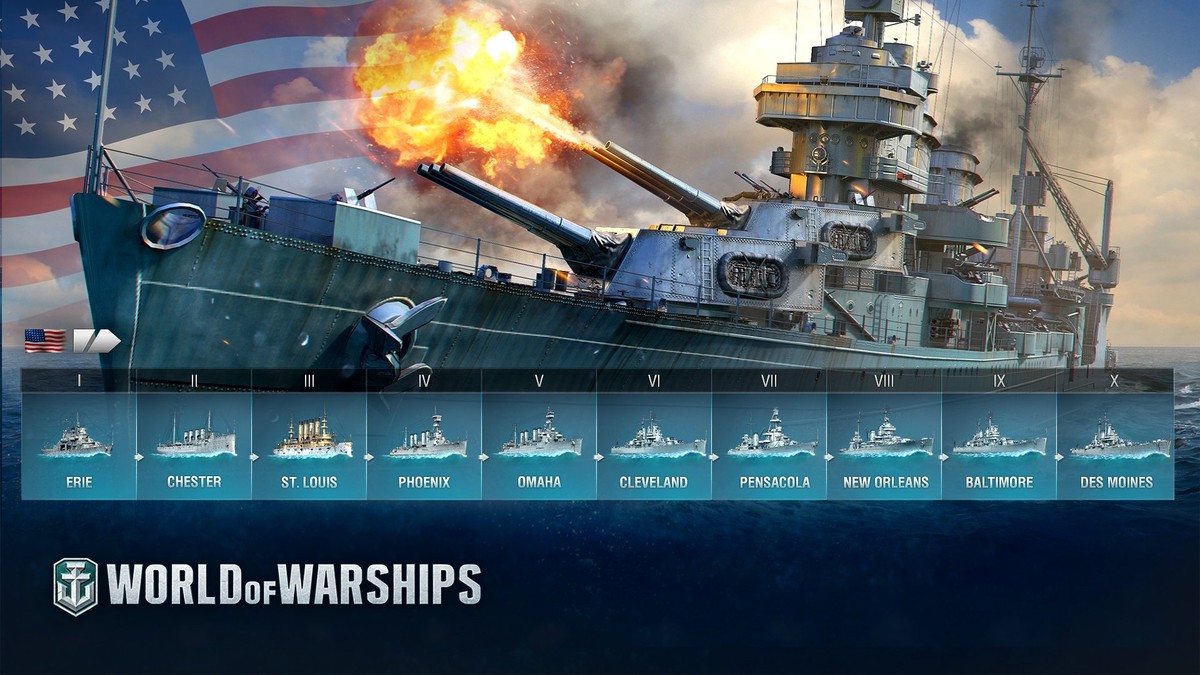 0.7.4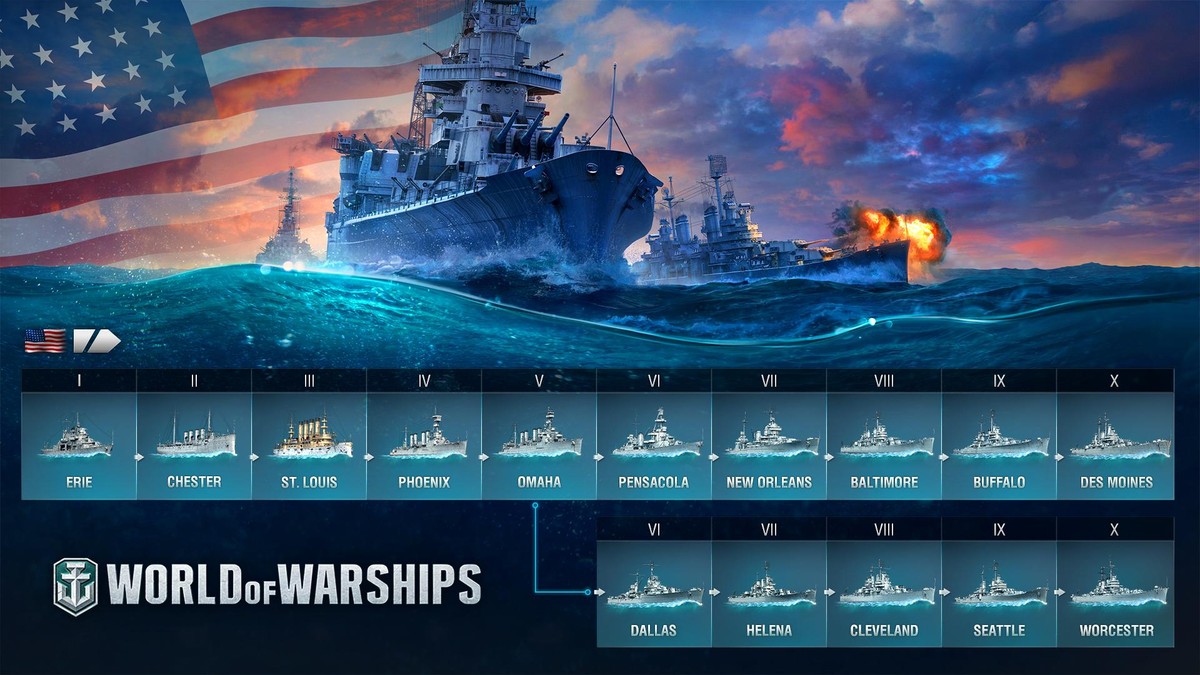 ---
Pensacola, livello VI
Questa nave è stata spostata dal livello VII al livello VI. Ha mantenuto inalterata la potenza di fuoco e ciò la rende un pericoloso avversario per gli incrociatori e i cacciatorpediniere nemici. Bisogna tuttavia evitare di ruotare i cannoni da un lato all'altro troppo spesso e rimanere lontani dagli avversari, poiché che il raggio di rilevabilità è stato aumentato e la velocità di rotazione delle torrette è stata ridotta.
Consumabili disponibili:

Squadra controllo danni

Sbarramento contraereo

Ricerca idrofonica

Caccia catapultabile
---
New Orleans, livello VII
Questa nave è scesa dal livello VIII al livello VII ed è ora dotata di buona manovrabilità e minore raggio di rilevabilità. La velocità di rotazione dei cannoni è più alta rispetto a quella della Pensacola. Tuttavia è stata rimossa la Sorveglianza radar.
Consumabili disponibili:

Squadra controllo danni

Sbarramento contraereo

Ricerca idrofonica

Caccia catapultabile
---
Baltimore, livello VIII
Il Baltimore scende dal livello IX al livello VIII, ma mantiene gli stessi vantaggi di cui disponeva precedentemente. Il tempo di ricarica della sua batteria principale è di soli 10 secondi ed è in grado di sparare proiettili super-pesanti Mk.21 AP. Un altro punto di forza è la corazzatura da 27 mm a prua e a poppa. Infine, avrete ancora a disposizione il consumabile Sorveglianza radar, che vi aiuterà a fare piazza pulita di avventati cacciatorpediniere o incrociatori nemici che si nascondono all'interno di cortine fumogene.
Consumabili disponibili:

Squadra controllo danni

Sbarramento contraereo

Ricerca idrofonica

Caccia catapultabile

Sorveglianza radar
---
Des Moines, livello X
Il buon Des Moines ha mantenuto tutti i vantaggi presenti sotto la cintura corazzata, rimanendo tuttavia allo stesso livello. Se non avete avuto modo di provare questa nave americana, ecco i suoi principali punti di forza: l'elevata velocità di ricarica dei cannoni della batteria principale fornisce un impressionante valore di danno medio; la traiettoria arcuata dei proiettili AP, combinata all'elevata capacità di perforazione, consente di causare ingenti danni ai nemici rimanendo tuttavia in copertura; le potenti difese contraeree sono in grado di terrorizzare gli aerei nemici, e infine il tutto è contornato da un'ampia scelta di consumabili in ben quattro spazi.
Consumabili disponibili:

Squadra controllo danni

Sbarramento contraereo

Ricerca idrofonica

Caccia catapultabile

Velivolo da ricognizione

SoE adesso diamo un'occhiata più da vicino alle modifiche più interessanti!
---
Buffalo, livello IX
Ecco l'ultimo arrivato tra gli incrociatori pesanti! Il Buffalo è armato con i popolari e altrettanto pericolosi cannoni da 203 mm 55 Mk.15. Ha ereditato il suo valore di danno al secondo dal "vecchio" Baltimore, ma adesso le sue salve sono decisamente più pesanti. Una bordata completa di tutti i cannoni (per un totale di 12 proiettili) causerà non pochi problemi al nemico, ma è necessario tenere a mente la moderata velocità di ricarica della batteria principale di questo incrociatore, nonché la portata di fuoco limitata, specialmente se questo parametro non viene migliorato montando importanti potenziamenti. Nonostante ciò, l'elevato numero di HP e la buona corazzatura permettono a questa nave di assorbire i colpi della maggior parte degli incrociatori e dei cacciatorpediniere. Apprezzerete anche la generosa scelta di consumabili. Il Buffalo ha anche una cittadella piuttosto alta, fattore da tenere bene a mente durante le manovre.
Consumabili disponibili:

Squadra controllo danni

Sbarramento contraereo

Ricerca idrofonica

Caccia catapultabile

Velivolo da ricognizione

Sorveglianza radar

Squadra di riparazione
Riferimenti storici
Nel 1940 l'ufficio di costruzione navale americano stava sviluppando diverse configurazioni avanzate sotto il progetto di incrociatore da 35 nodi. Il 31 luglio 1940 furono consegnate le specifiche prestazionali per tre versioni dell'incrociatore "Wichita migliorato". Il 16 settembre gli ingegneri presentarono tre bozze di progetto con nome in codice CA-A, CA-B e CA-C. La prima versione prevedeva corazzatura migliorata pensata per resistere ai colpi dei nuovi proiettili da 335 libbre. Le altre due versioni prevedevano una torretta di batteria principale aggiuntiva. CA-A comprendeva difatti gli stessi lavori eseguiti in contemporanea all'interno del progetto Baltimore. CA-C era dotato di un dislocamento di più di 20.000 tonnellate e stava sforando i limiti di dimensioni per gli incrociatori pesanti, ricadendo quindi nella categoria "incrociatori grandi". Detto questo, il progetto CA-B appariva come la scelta più indicata, ma erano presenti alcuni problemi con l'installazione della propulsione da 150.000 hp all'interno dello scafo della nave, per poter raggiungere i 35 nodi necessari; il progetto poteva arrivare a "soli" 33 nodi con le dimensioni attuali. Tuttavia, in ultimo fu deciso di non costruire la nave seguendo questi progetti.
Descrizione del modello della nave
Nella versione CA-B, lo scafo della nave assomiglia a quello di Baltimore e Cleveland, ma con un castello di prua esteso. Le caratteristiche prestazionali imposte dal progetto erano troppo ottimistiche: era impossibile poterle raggiungere durante lo sviluppo. L'incrociatore Des Moines fu utilizzato come prototipo per il calcolo del peso dei carichi. Sempre dal Des Moines fu presa la propulsione a quattro caldaie, che gli permetteva di raggiungere la velocità di 32 nodi con un dislocamento di 18.000 tonnellate, usando la configurazione di prova. A causa di un carico eccessivo, la nave non ricevette le torrette principali del Des Moines, né i suoi tubi lanciasiluri. La nave era dotata di artiglieria contraerea di piccolo calibro convenzionale per il 1943–1945: cannoni Bofors da 40 mm e Oerlikon da 20 mm in configurazioni triple e quadruple.
---
Cleveland, livello VIII
Il Cleveland è stato spostato al livello VIII nel ramo degli incrociatori leggeri! Il tempo di ricarica e la velocità di rotazione dei cannoni di batteria principale sono stati migliorati e, conseguentemente, la nave ora ha un danno medio per minuto maggiore. Oltre a ciò, gli HP della nave sono stati aumentati e sono stati aggiunti alcuni consumabili. Anche se il Cleveland non è dotato di un numero di cannoni da record, dispone di portata e cadenza di fuoco superiori alla media. Sulla nave potrete montare in contemporanea i consumabili Ricerca idrofonica e Sorveglianza radar, se siete disposti a installare il secondo rinunciando al Velivolo da ricognizione. Se preferite dare più importanza all'occultamento, allora sarete felici di sapere che se vi concentrate su questa caratteristica, allora il raggio di rilevabilità della vostra nave sarà paragonabile alla distanza in cui può essere rilevata da un Sorveglianza radar.
Consumabili disponibili:

Squadra controllo danni

Ricerca idrofonica

Sbarramento contraereo

Velivolo da ricognizione

Sorveglianza radar