source – wows NA portal
Space Games
Put on your space suits and all hands to battle stations: let the Space Warships Intergalactic Games begin! The time has come to return to Space Port and stand at the helms of some specially equipped ships that are ready to participate in the Space Games.
You can find the following ships on the Public Test servers: All destroyer (Kurfurst), Paris (Republique), Zaya (Zao), Galaxy (Des Moines), Norma (Minotaur), Aurora (Moskva), FlyFire (Gearing), Blue Aster (Z-52), and a new ship—Century Hawk (Hindenburg). Three more ships intended for a separate mode will be added later.
---
Indossa le tute spaziali e tutte le mani sulle stazioni di battaglia: fai iniziare i Giochi intergalattici Space Warships! È giunto il momento di tornare al Porto Spaziale e stare al timone di alcune navi appositamente attrezzate che sono pronte a partecipare agli Space Games.
Puoi trovare le seguenti navi sui server Public Test: All destroyer (Kurfurst), Parigi (Republique), Zaya (Zao), Galaxy (Des Moines), Norma (Minotauro), Aurora (Moskva), FlyFire (Gearing), Blu Aster (Z-52), e una nuova nave-Century Hawk (Hindenburg). Altre tre navi destinate a una modalità separata verranno aggiunte in seguito.
Battle Modes
Select a new battle type and step into one of four Space Warships Intergalactic Games modes:
---
Seleziona un nuovo tipo di battaglia ed entra in uno dei 4 modi di gioco:
Space Assault
This mode divides players into attacking and defending teams, each comprising 9 members. Both sides have their own advantages: ships of the attacking team respawn in the starting area, while ships of the defending team gradually recover their HP. The objective of the attacking team is to destroy the defending team's base in a limited period of time. To succeed, they have to destroy the force field generators first. Each destroyed generator not only extends the available time to complete the mission, but also speeds up the HP regeneration of the defending team's ships. Losing their allies also results in faster HP restoration for the remaining defenders. Test your strength in attacking with unlimited number of "lives", or stand firmly and hold your base until the last second. The Matchmaker will decide which side you will take.
---
Questa modalità divide i giocatori in squadre in attacco e in difesa, ciascuna composta da 9 membri. Entrambe le parti hanno i loro vantaggi: le navi della squadra attaccante si rigenerano nell'area di partenza, mentre le navi della squadra in difesa recuperano gradualmente i loro HP. L'obiettivo della squadra attaccante è distruggere la base della squadra in difesa in un periodo di tempo limitato. Per avere successo, devono prima distruggere i generatori di campi di forza. Ogni generatore distrutto non solo estende il tempo disponibile per completare la missione, ma accelera anche la rigenerazione HP delle navi della squadra in difesa. Perdere i propri alleati si traduce anche in un recupero di HP più veloce per i restanti difensori. Metti alla prova la tua forza nell'attaccare con un numero illimitato di "vite", o tieniti saldo e mantieni la tua base fino all'ultimo secondo. Il Matchmaker deciderà da che parte prenderete.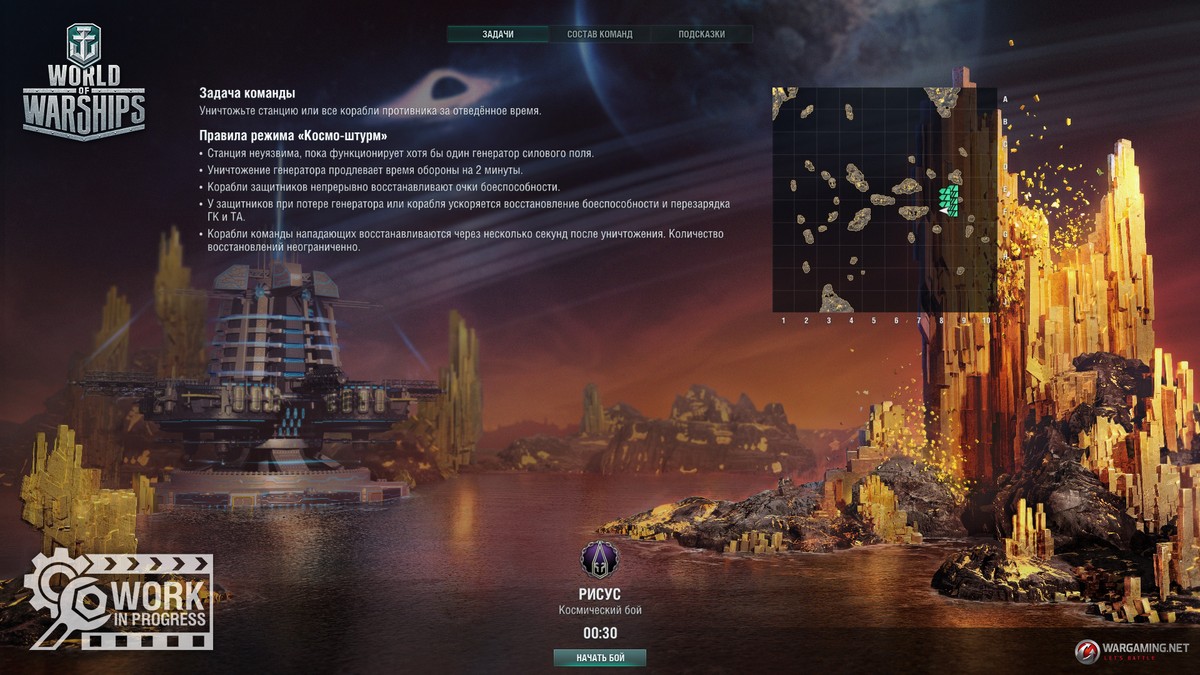 Rings of Saturn
The usual Epicenter mode has been somewhat reworked in the bright space future. Capturing the outer areas will not be blocked if the enemy tries to capture the inner areas. The team will be rewarded with more points for holding the inner ring than for holding the outer rings. Team size remains the same.
---
La solita modalità Epicenter è stata in qualche modo rielaborata nel futuro luminoso dello spazio. Catturare le aree esterne non sarà bloccato se il nemico cerca di catturare le aree interne. La squadra sarà premiata con più punti per tenere l'anello interno che per tenere gli anelli esterni. Le dimensioni della squadra rimangono le stesse.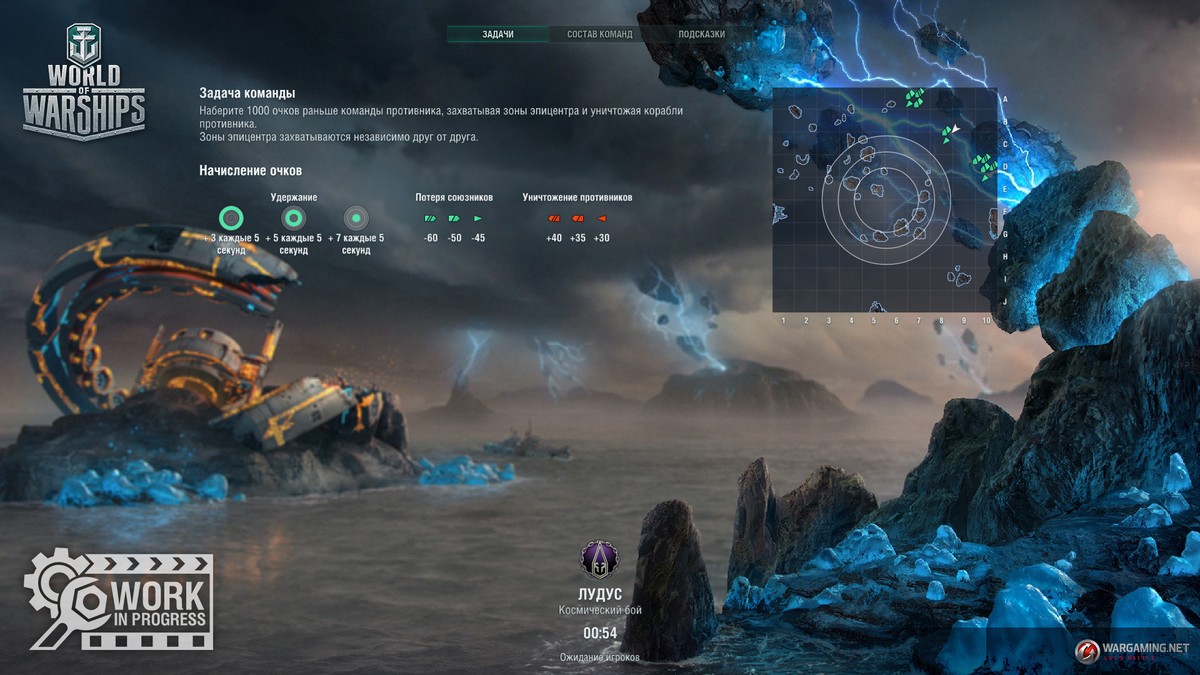 Binary Star
Control points for the teams, each consisting of 12 players, are located on the enemy's side. Initially, the control points cover a wide territory, but, starting from the 5th minute, they begin to shrink. You will have to actively attack your enemies in order to prevent them from capturing your control point.
---
I punti di controllo per le squadre, ciascuno composto da 12 giocatori, si trovano sul lato del nemico. Inizialmente, i punti di controllo coprono un vasto territorio, ma, a partire dal 5 ° minuto, iniziano a ridursi. Dovrai attaccare attivamente i tuoi nemici per impedire loro di catturare il tuo punto di controllo.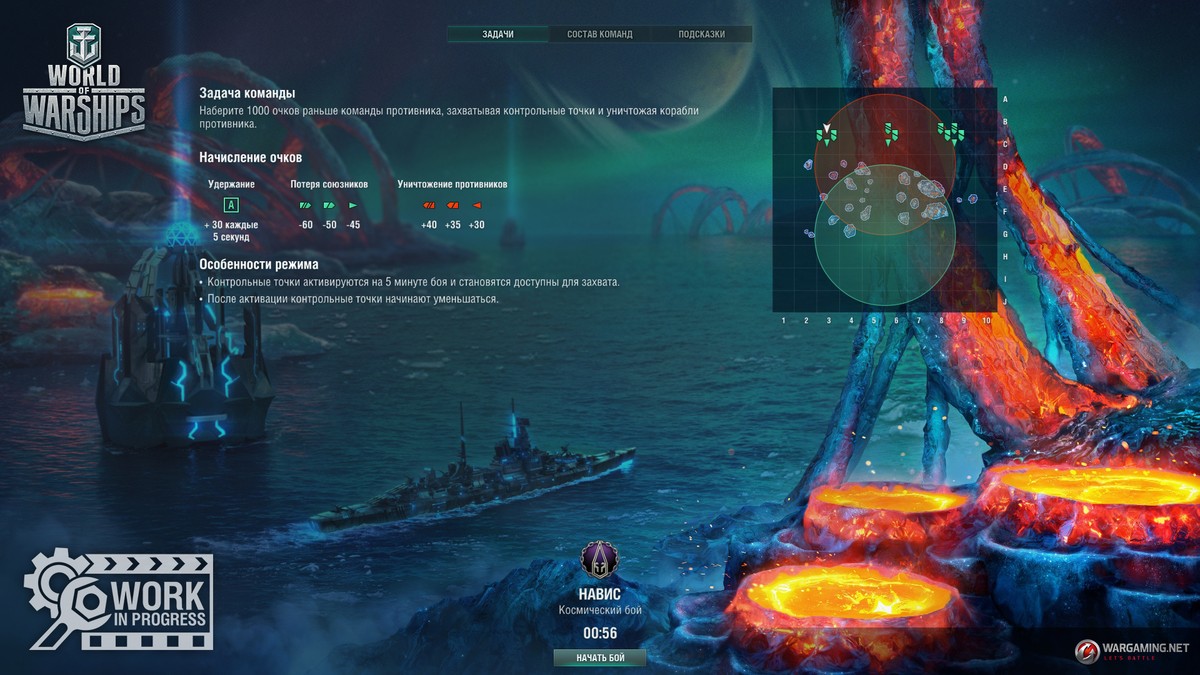 Torpedo Beat
Get ready for some dynamic torpedo gameplay! Teams consisting of 5 members and playing on destroyers fight primarily with torpedo tubes, while their main battery guns operate similarly to the secondary battery guns. Ships enjoy significantly improved maneuverability and a reduction in the time it takes to reach maximum speed or stop completely. After destroying an enemy ship, one charge of the Repair Party consumable is given to the player that caused the damage, as well as to each member of the team that lost their ally. Your skills of evasion and torpedo use have never undergone such a hard test before!
---
Preparati per un gameplay dinamico di siluri! Le squadre composte da 5 membri e che giocano sui cacciatorpediniere combattono principalmente con i tubi lanciasiluri, mentre i loro cannoni a batteria principali funzionano in modo simile ai cannoni batteria secondari. Le navi godono di una manovrabilità notevolmente migliorata e di una riduzione del tempo necessario per raggiungere la massima velocità o fermarsi completamente. Dopo aver distrutto una nave nemica, al giocatore che ha causato il danno e a ciascun membro della squadra che ha perso l'alleato viene consegnata una carica del materiale consumabile del riparatore. Le tue abilità nell'evasione e nell'uso del siluro non hanno mai subito un test così difficile!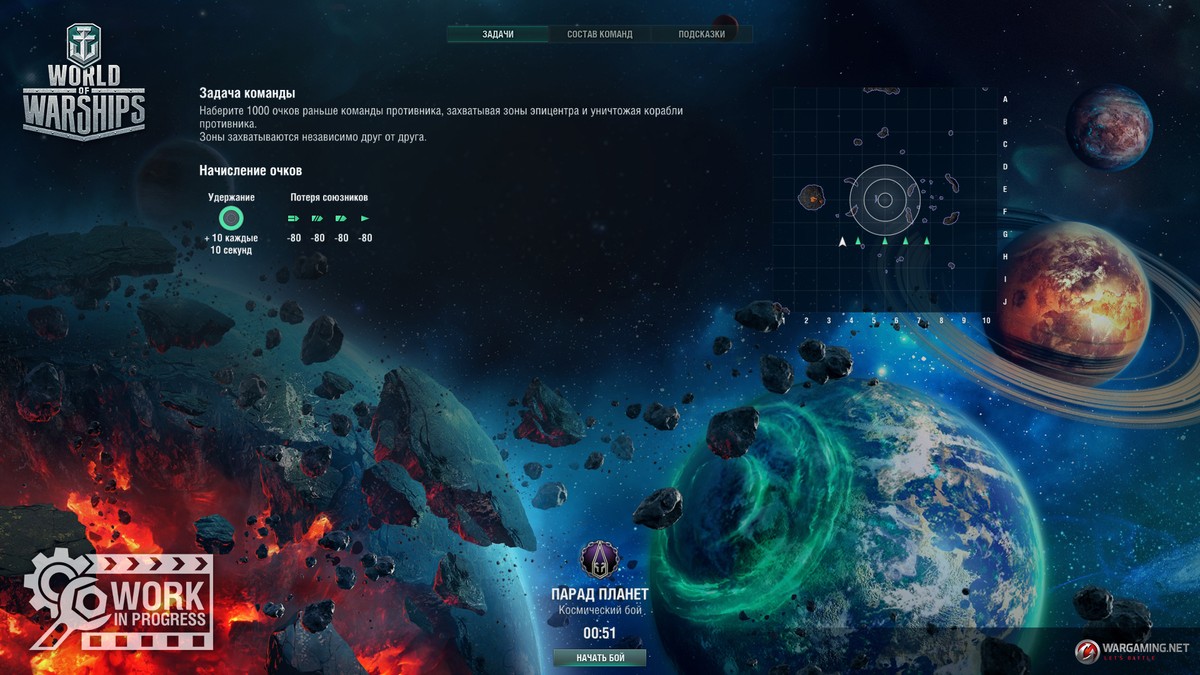 Special achievements can be earned in Space Battles.
The modes are available in a separate battle type, but not all at once. The schedule can be found in the Public Test Announcement.
---
Le modalità sono disponibili in un tipo di battaglia separato, ma non tutte in una volta. Il programma può essere trovato nel Public Test Announcement.
Maps
The Space Games will be held on 4 maps:
Risus, formed by Ironium crystals (a reworked Estuary map).
Ludus, filled with levitating stone debris (space version of the Tears of the Desert map).
Navis, formed by islands in rings of hardened lava (inspired by the Warrior's Path map).
Appulse, already familiar to players from the previous year (the Hotspot map).
---
Risus, formato da cristalli di ironio (una mappa dell'estuario rielaborata).
Ludus, pieno di detriti levitanti in pietra (versione spaziale della mappa delle lacrime del deserto).
Navis, formata da isole in anelli di lava indurita (ispirata alla mappa del percorso del guerriero).
Appulse già familiare ai giocatori dell'anno precedente (la mappa dell'hotspot).
Rewards and the Arsenal
In Update 0.8.2, due to significantly extended stock and increased functionality, the Arsenal will get a new name—Armory.

The reward for completing the daily missions and Directives of Intergalactic All-Round will be Ironium, a new temporary resource which you can spend in a new temporary Armory category.
Permanent space camouflage patterns will be available again! Nine existing camos will be complemented with two new ones for Hindenburg and Shimakaze. In addition to camouflage patterns for Tier X ships, you can receive permanent space camos for US and French Tier VI–IX cruisers Pensacola, New Orleans, Baltimore, Buffalo, Galissonniere, Algerie, Charles Martel, and Saint Louis as rewards for completing Directives. During the Public Test, you will be able to obtain permanent camouflage patterns for Shimakaze and Tier VI–IX ships.
Starting from 0.8.2, each new update will bring a new camo for various ships to the Armory. These will be obtained in exchange for Copper or Molybdenum, with the required resource alternating with each update. In 0.8.2, Tier IX destroyer Black will get a new camouflage pattern—Marlin—which will be obtained in exchange for Molybdenum.
The Armory will also be stocked with numerous ships that can be obtained for doubloons, but these will be available on the live server only. During the Public Test, you will be able to make use of the newly-added ship filters, allowing you to select tiers, nations, required resources, and types.
---
La ricompensa per il completamento delle missioni giornaliere e delle Direttive Intergalattiche a tutto tondo sarà Ironium, una nuova risorsa temporanea che puoi spendere in una nuova categoria Armeria temporanea.
Saranno nuovamente disponibili modelli di camuffamento spaziale permanente! Nove camos esistenti saranno completati con due nuovi per Hindenburg e Shimakaze. Oltre ai modelli di cammuffamento per le navi di livello X, è possibile ricevere camme spaziali permanenti per incrociatori statunitensi e francesi di livello VI-IX, Pensacola, New Orleans, Baltimora, Buffalo, Galissonniere, Algerie, Charles Martel e Saint Louis come ricompensa per il completamento delle direttive. Durante il Public Test, sarai in grado di ottenere modelli di cammuffamento permanente per le navi Shimakaze e Tier VI-IX.
A partire dal 0.8.2, ogni nuovo aggiornamento porterà un nuovo camo per varie navi nell'Armeria. Questi saranno ottenuti in cambio di rame o molibdeno, con la risorsa richiesta in alternanza con ogni aggiornamento. In 0.8.2, il cacciatorpediniere Tier IX otterrà un nuovo schema mimetico: Marlin, che sarà ottenuto in cambio di Molibdeno.
L'Armeria sarà anche fornita di numerose navi che possono essere ottenute per i dobloni, ma queste saranno disponibili solo sul server live. Durante il test pubblico, sarete in grado di utilizzare i filtri nave appena aggiunti, consentendo di selezionare livelli, nazioni, risorse e tipi richiesti.
Changes to Aircraft Carriers
Our work on aircraft carriers continues, with the Update bringing changes to the Deck interface: in the standard mode, the Deck indicators show the readiness of the entire squadron with the aircraft divided into flights; in the alternative mode, the total number of aircraft divided by types is displayed. This will simplify evaluating a squadron's readiness and make the Deck mechanics more explicit.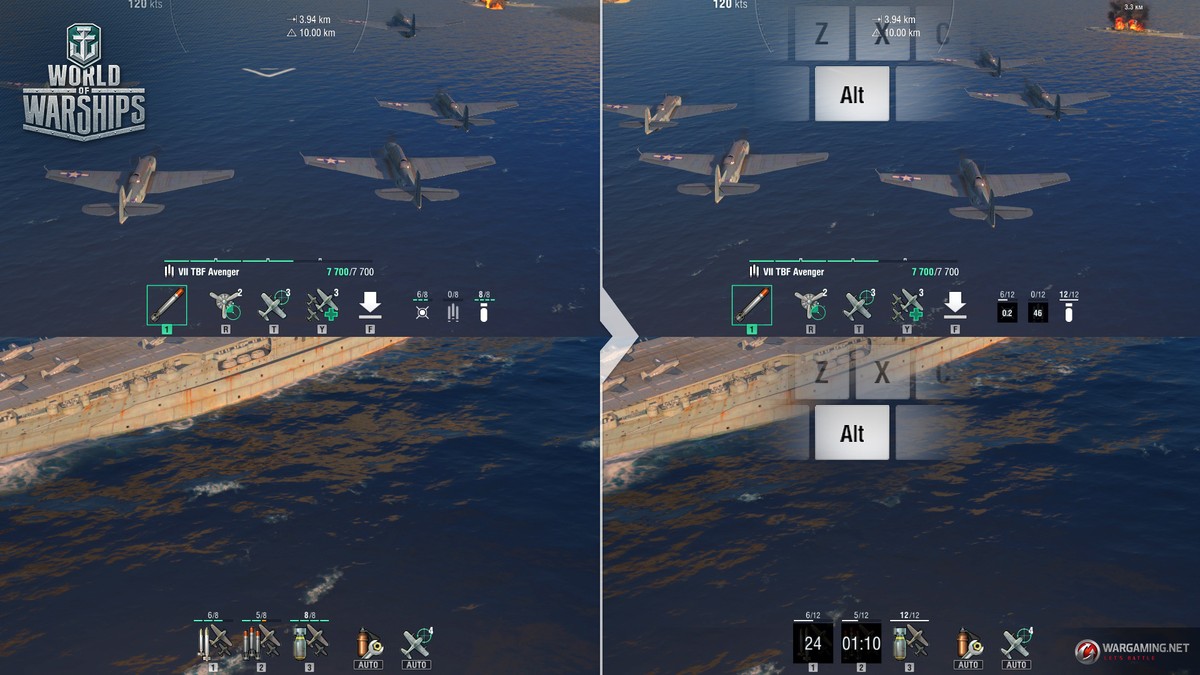 The Radio Location Commander skill used in conjunction with aircraft made it easy to find and follow destroyers, thus depriving these ships of their main advantage—concealment. In order to reduce the excessive influence of aircraft carriers on the detection of destroyers, the effects of the Radio Location skill will not encompass aircraft.
---
Il nostro lavoro sulle portaerei continua, con l'aggiornamento che introduce cambiamenti nell'interfaccia del Deck: nella modalità standard, gli indicatori del Deck mostrano la prontezza dell'intero squadrone con l'aereo diviso in voli; nella modalità alternativa, viene visualizzato il numero totale di aeromobili diviso per tipi. Questo semplificherà la valutazione della prontezza dello squadrone e renderà le meccaniche del Deck più esplicite.
L'abilità di Radio Location Commander usata in congiunzione con l'aereo ha reso facile trovare e seguire i cacciatorpedinieri, privando così queste navi del loro principale vantaggio-occultamento. Al fine di ridurre l'eccessiva influenza delle portaerei sul rilevamento di cacciatorpediniere, gli effetti dell'abilità di localizzazione radio non comprenderanno gli aeromobili.
Improved Port UI and Service Record
The Port will see significant changes in displaying the current event, Premium Shop, Armory, combat missions, and other banners on the left side of the screen.
Progress will also be displayed in this menu for players who haven't reached Level 15 in their Service Record. The Service Record section of the profile has been updated, and now tracking progress and rewards will be more convenient for players. As the distinctive insignia modification settings have been moved from the Service Record section to the upper-left part of the Port, the server information and online player counter have been transferred to the main menu, which can be opened with the ESC key
---
Il Porto vedrà cambiamenti significativi nella visualizzazione dell'evento corrente, Negozio Premium, Armeria, missioni di combattimento e altri banner sul lato sinistro dello schermo.

I progressi verranno visualizzati anche in questo menu per i giocatori che non hanno raggiunto il livello 15 nel loro record di servizio. La sezione Service Record del profilo è stata aggiornata, e ora monitorare i progressi e i premi sarà più conveniente per i giocatori. Poiché le impostazioni di modifica dell'insegna distintiva sono state spostate dalla sezione Registrazione servizi alla parte in alto a sinistra della porta, le informazioni sul server e il contatore del lettore online sono state trasferite nel menu principale, che può essere aperto con il tasto ESC
.