"I'm Not Saying It's Aliens, But…"
We're constantly searching for cool Operations to add in the game. Players will definitely recall the April Fools Day mode from years ago, in which they were able to spacewalk and control spaceships. This time, we're introducing a new Operation based on historical facts from Earth's history, but still as cosmic and mysterious as that April Fools gag from years ago.
We're talking about the well-known Battle of Antarctica, also known as Operation Highjump. In 1946, U.S.A. Task Forces went to Antarctica to destroy the remaining bases of the Fourth Reich and capture a new unique weapon—flying saucers. However, on March 3, 1947, the squadron was attacked by the enemy and forced to flee. The expedition failed, but 71 years later, players have a chance for a rematch: in the mode, a team of 12 ships will face 12 flying saucers.
Map
Maps with snowfields and glaciers already exist in our game, so for the new scenario we partly used the Islands of Ice map that is already familiar to players. Though, the landscapes and icebergs were slightly changed to provide flying saucers with cover from the ship attacks.
Flying Saucers
In the German archives, our researchers found drawings of the flying saucers series, with innovative electromagnetic gravity engines. In 1935, the Thule Society was looking for a location to test a new powerful armament. The Hauneburg testing ground in Northwest Germany was well suited for this. The project was referred to as the "Hauneburg Device", and later, for security, its name was shortened to "Haunebu". The early Haunebu was 25 meters in diameter, held a team of 8 people, could reach a speed of 4,800 km/h, and its operation time was 18 hours. According to the documents, a few prototypes were constructed, but later disappeared under mysterious circumstances. Witnesses said that the Thule Society left Germany in March 1945 using "flying saucers".

Cruiser Minotaur fights against a flying saucer.
Source: Our trusted informant, Fakename McRealguy
Based on those documents, we decided to design our own flying saucer with some balance changes.
To suit the balance, the flying saucers are destroyer-sized. There were very few materials in the archives, so the designers had to make their own drawings to further create in-game models. Obviously, it was very difficult to avoid the common stereotypes about the exterior of flying saucers imposed by movies. Our designers did their best to create flying saucers that suit the game style and historical context as if this type of craft existed in the game from the very beginning.
Game Characteristics of Flying Saucers
High Maneuverability
All flying saucers will fly at the same height, to make it easier to control them and monitor only the opponent's movement without worrying about keeping their flying saucers at the necessary height. On the other hand, moving in the same plane makes flying saucers easy targets for enemy ships, so we improved their maneuverability to balance it out.
Powerful Salvo
Instead of firing rounds of shots, the flying saucers will be able to make one powerful salvo at long range with a long reload time.
Regeneration
If flying saucers avoid receiving damage for a certain time, they will slowly self-repair. After a flying saucer receives damage, the timer resets, and they will have to dodge enemy attacks again.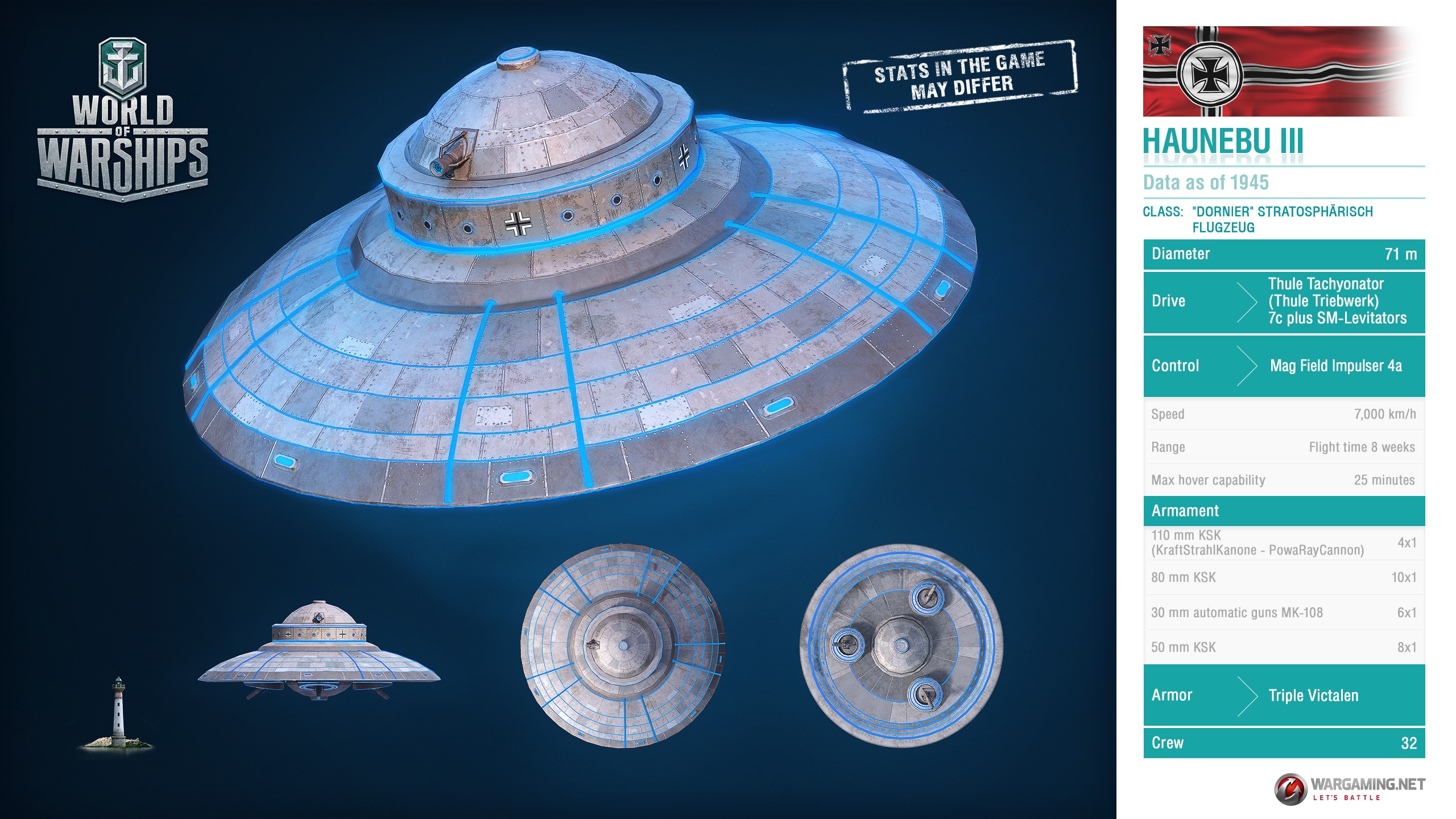 ---
Siamo costantemente alla ricerca di buoni scenari da aggiungere al gioco. Ai giocatori ricorderà la modalità del pesce d'aprile, in cui potevano camminare nello spazio e controllare navi spaziali. Questa volta introdurremo una nuova modalità, basata sulla storia del pianeta Terra. Nondimeno, questa modalità sarà cosmica e misteriosa come la precedente.
Stiamo parlando della rinomata battaglia dell'Antartide del 1946, conosciuta anche con il nome di Operazione Highjump, durante la quale una task force americana sbarcò in Antartide per distruggere le rimanenti basi del Quarto Reich e catturare le loro nuove armi: dischi volanti. Il 3 marzo 1947 l'unità fu attaccata dal nemico e costretta a ritirarsi. La spedizione fallì, ma, 71 anni dopo, i giocatori avranno la possibilità di riaprire la partita: in questa modalità 12 navi affronteranno 12 dischi volanti.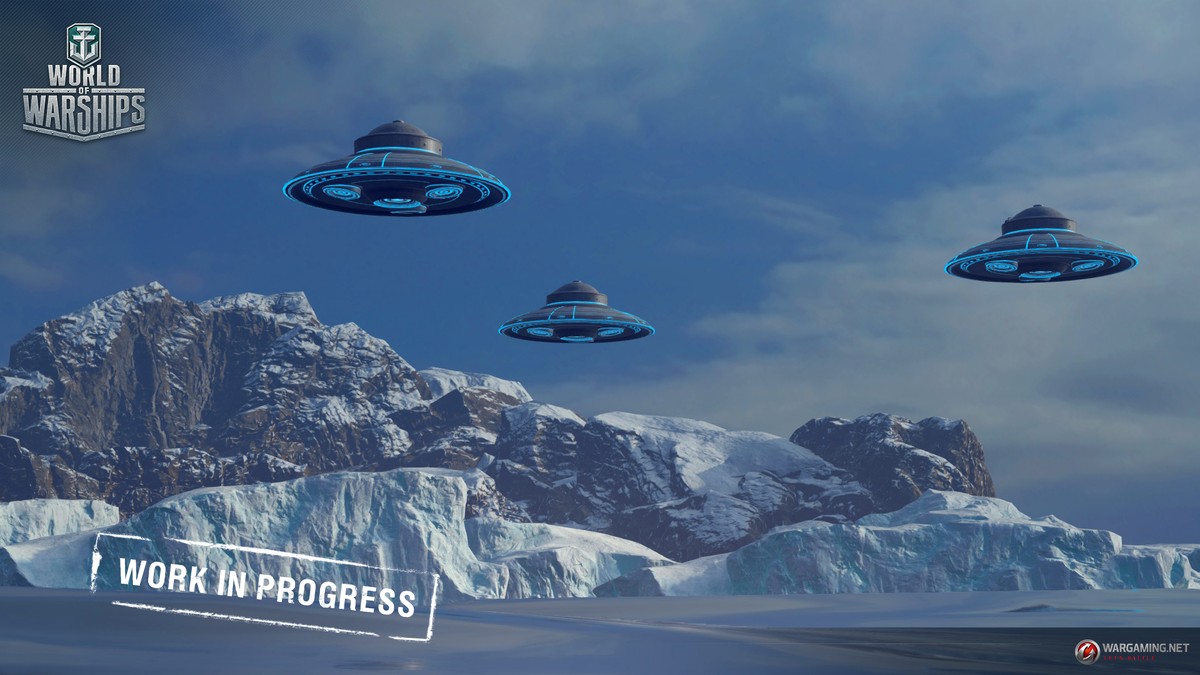 Map
Maps with snowfields and glaciers already exist in our game, so for the new Scenario, we partly used the Islands of Ice map that is already familiar to players. Though, the landscapes and icebergs were slightly changed to provide flying saucers with cover from the ship attacks.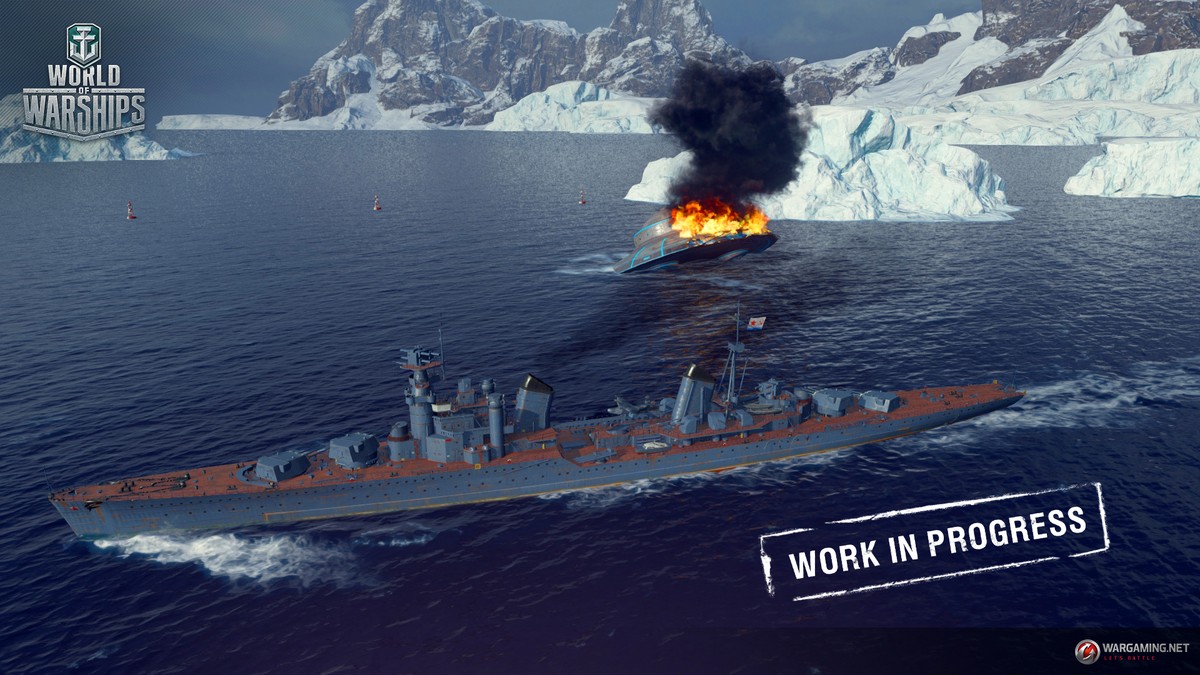 Dischi volanti
Negli archivi tedeschi, i nostri ricercatori hanno trovato raffigurazioni di serie di dischi volanti con innovativi motori a gravità elettromagnetica. Nel 1935, la Società Thule stava cercando un posto per provare un nuovo potente armamento. Il campo di prova di Hauneburg, nella Germania nord-occidentale, si dimostrò perfetto per questo scopo. Il progetto si riferiva a un "Dispositivo Hauneburg" e successivamente, per motivi di sicurezza, il nome venne abbreviato in "Haunebu". La versione iniziale dell'Haunebu era di 25 metri di diametro, trasportava una squadra di 8 persone e poteva raggiungere la velocità di 4.800 km/h con un periodo di volo di 18 ore. Secondo i documenti, vennero costruiti alcuni prototipi che andarono tuttavia persi in misteriose circostanze. Secondo alcune testimonianze, la società Thule lasciò la Germania nel marzo del 1945 utilizzando dei "dischi volanti".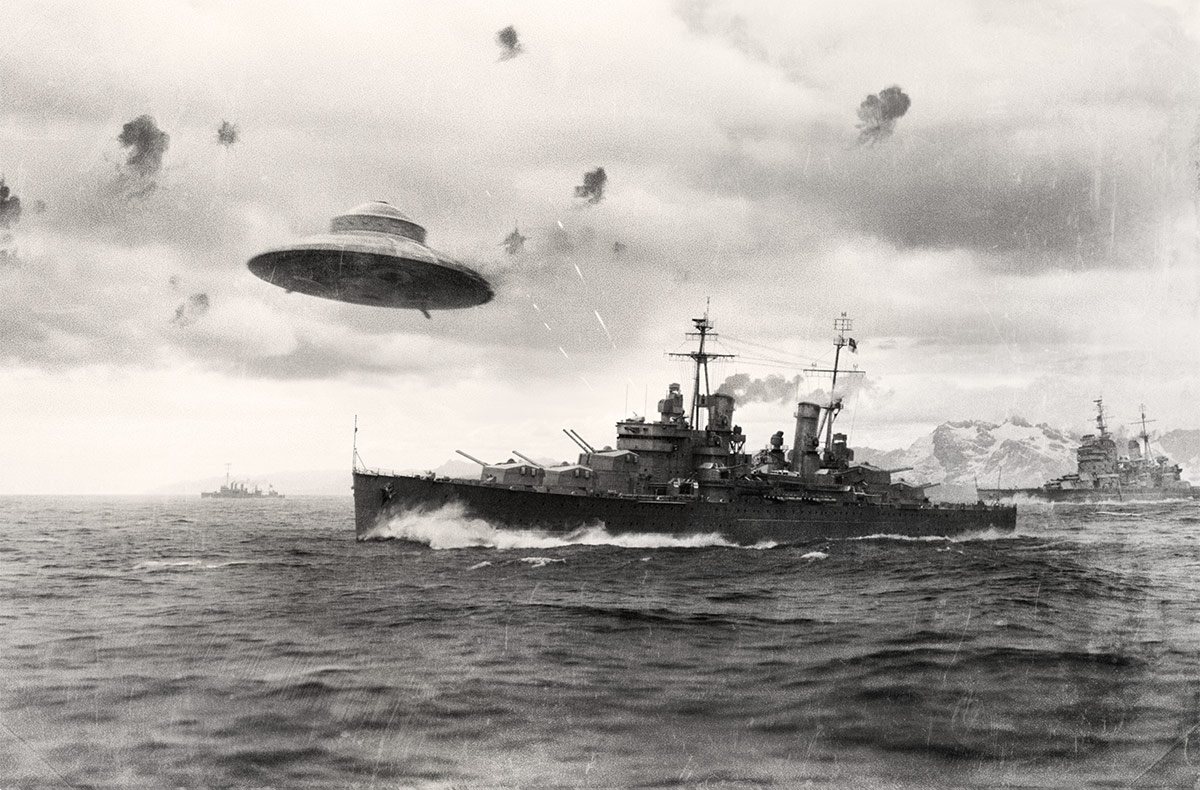 *foto storicamente accurata* (l'incrociatore Minotaur combatte contro un disco volante, la foto ci è stata fornita da fonti affidabili)
In base a questi documenti, abbiamo deciso di progettare il nostro disco volante con alcune modifiche sul bilanciamento.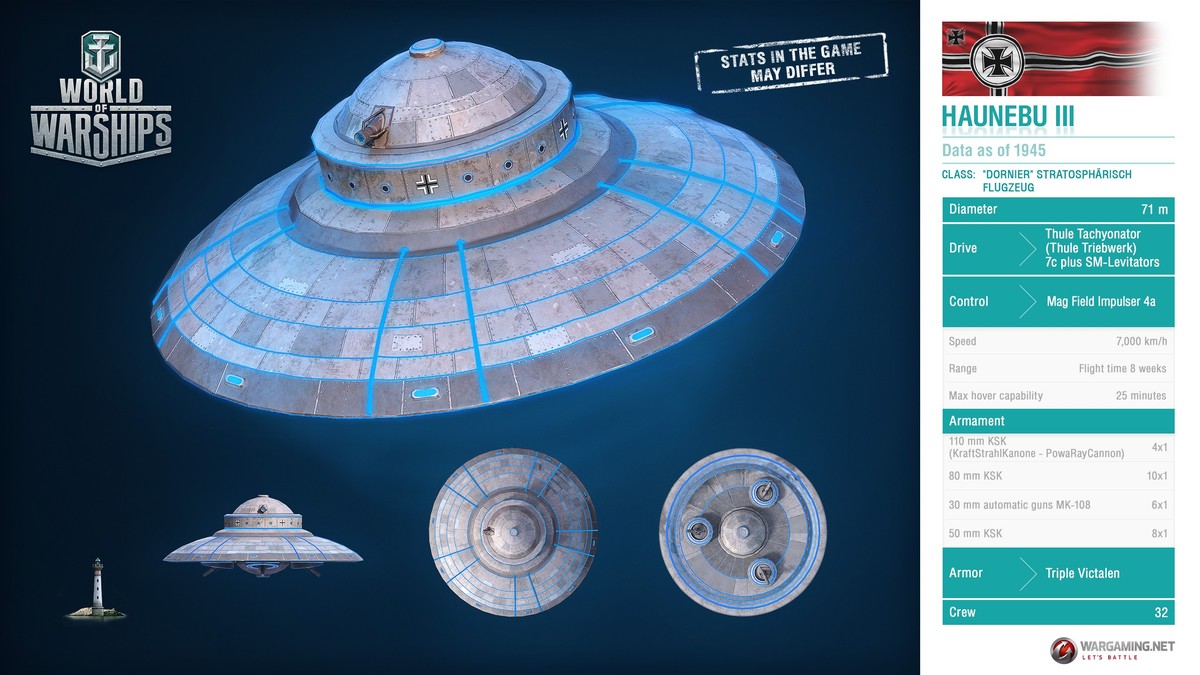 Per questioni di giocabilità, i dischi volanti verranno inseriti tra i cacciatorpediniere. Data la scarsità di materiale negli archivi, i progettisti hanno dovuto realizzare delle raffigurazioni per poter poi creare i modelli in gioco. Ovviamente è stato difficile evitare gli stereotipi classici sull'aspetto dei dischi volanti imposti dai film. I nostri progettisti hanno fatto del loro meglio per creare dischi volanti dall'aspetto naturale e dello stesso stile del resto del gioco, come se fossero sempre stati presenti.
Caratteristiche di gioco dei dischi volanti
Alta manovrabilità
Per necessità di bilanciamento, tutti i dischi volanti voleranno alla stessa quota, per rendere più semplice il loro controllo e monitorare solo i movimenti avversari senza doversi preoccupare di mantenere l'altitudine necessaria. D'altro canto, spostarsi sullo stesso piano rende i dischi volanti dei bersagli facili per le navi nemiche, quindi abbiamo migliorato la loro manovrabilità per bilanciare la situazione.
Potenti salve
Anziché sparare raffiche di colpi, i dischi volanti potranno sparare un'unica potente salva a lungo raggio, ma che richiederà un lungo tempo di ricarica.
Rigenerazione
Se i dischi volanti evitano di ricevere danni per un determinato periodo di tempo, si rigenereranno lentamente. Dopo che un disco volante riceve del danno, il timer si azzera e dovranno evitare di nuovo gli attacchi nemici.