Japanese Tier VIII destroyer, Yukikaze.
Yukikaze (雪 風, "Snowy Wind") was one of the Kagerō class destroyers and it was the only ship of its class who survived the war. The loss of the Japanese destroyers was very high due to the heavy, long-lasting struggle and the need to use them to transport supplies for dispersed Japanese garrisons located on the islands.
---
Yukikaze (雪 風, "Snowy Wind") era uno dei cacciatorpediniere della classe Kagerō ed era l'unica nave della sua classe a sopravvivere alla guerra. La perdita dei cacciatorpediniere giapponesi fu molto alta a causa della pesante e duratura lotta e della necessità di usarli per trasportare rifornimenti per le guarnigioni giapponesi disperse situate sulle isole.
Level
8
Life points
15 100
Main artillery
The maximum range of fire
9,409
127 mm / 50 3rd Year Type
3 x 2 127 mm
Torpedo tubes
610 mm Quad
2 x 4 610 mm
Anti-aircraft defense
25 mm / 60 Type96 mod. 1
10 x 1 25 mm
25 mm / 60 Type96 Triple mod. 1
3 x 3 25 mm
Maximum speed
35
Turning radius
640
Steering adjusting time
3.5
Detection range on the surface
6.84
Detection range from the air
3.84
Experience points
115,000
Price
9,100,000
Artillery 127 mm / 50 3rd Year Type
It works
2 x 127 mm
Reload time
7.05
Precision
Sigma
2.00σ
Horizontal scattering
50
Vertical Spread
110
Speed of rotation
6.9
The speed of the department facade
12
Smoke Penalty
0.0001
Maximum number of points of strength
4,000
Time of automatic repair
thirty
One-time regeneration of hit points
0.5
| | |
| --- | --- |
| Caliber | 127 |
| Type of projectile | HE |
| Statistical damage from the salvo | 2,150 |
| Damages | 470 |
| Average OB penetration | 21 |
| The radius of destruction | 0.41 |
| Fire probability | 0.09 |
| The speed of the missiles | 915 |
| Air drag | 0.334 |
| Bullet weight | 23 |
| Penetration of bullets | 450 |
| Fuse | 0.001 |
| Trigger trigger | 2 |
| Immersion height | 0.8 |
| Underwater penetration factor | 0.9 |
| Price | 10 |
| | |
| --- | --- |
| Caliber | 127 |
| Type of projectile | AP |
| Statistical damage from the salvo | 2,200 |
| Damages | |
| Average OB penetration | |
| The radius of destruction | |
| Fire probability | -0.5 |
| The speed of the missiles | 915 |
| Air drag | 0.334 |
| Bullet weight | 23 |
| Penetration of bullets | 266 |
| Fuse | 0.01 |
| Trigger trigger | 21 |
| Immersion height | 0.8 |
| Underwater penetration factor | 0.9 |
| Price | 10 |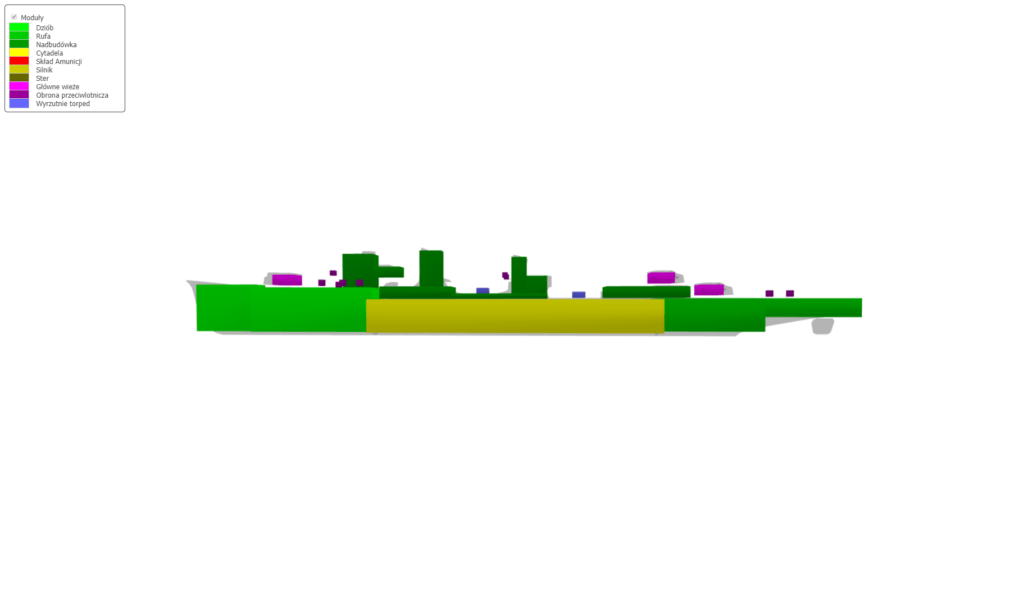 Torpedoes: 610 mm Quad
torpedoes
4 x 610 mm
Reload time
104
Speed of rotation
25
The speed of the department facade
25
Throttle angles
4.8 … 16
Maximum number of hit points
1,200
Time of automatic repair
15
One-time regeneration of hit points
0.5
Anti-aircraft defense – medium range
25 mm / 60 Type96 mod. 1 (10 x 1 25 mm)
The range of anti-aircraft defense
0.18
The maximum range of fire
83 (2.5 km)
Reload time
1
Maximum number of hit points
600
Time of automatic repair
10
One-time regeneration of hit points
0.5
25 mm / 60 Type96 Triple mod. 1 (3 x 3 25 mm)
The range of anti-aircraft defense
0.1
The maximum range of fire
83 (2.5 km)
Reload time
1
Maximum number of hit points
600
Time of automatic repair
10
One-time regeneration of hit points