DS PZInż (Poland, MT-5, regular) went to the WOT super test. The initial tank of the Polish MT branch. The release is scheduled for 1 update. Previously called the tank: DS PZlnz-I
Full specifications, tank model, and description. There is also the final model of the tank.
* An advance project of a medium tank, the work on which was carried out in the engine department of the Polish enterprise "State Engineering Factories" (Dział Silnikowy PZInż) in the late 1930s. The machine was a direct development of the design of the 10TP tank and had to have a Christie suspension, enhanced armor, and weapons. Most of the developments were destroyed during the bombing of the industrial zones of Warsaw in 1939.
---
DS PZInż (Polonia, MT-5, regolare) è andato al super test WOT. Il carro iniziale della filiale polacca MT. L'uscita è prevista per 1 aggiornamento. Precedentemente chiamato: DS PZlnz-I, questo è il primo nuovo carro medio polacco.
Specifiche complete, modello del carro e descrizione. Esiste anche il modello finale.
Un progetto avanzato di un carro medio, il cui lavoro è stato svolto nel reparto motori dell'impresa polacca "Fabbriche di ingegneria statale" (Dział Silnikowy PZInż) alla fine degli anni '30. La macchina era uno sviluppo diretto del design del carro armato 10TP e doveva avere una sospensione Christie, armature potenziate e armi. Gran parte degli sviluppi furono distrutti durante il bombardamento delle zone industriali di Varsavia nel 1939.
Initial parameters:
Tier: MT-5, Poland, standard
HP: 590
Engine power: 585 HP
Weight: 31.43 t
Maximum load: 33.0 t
Power per ton: 18.61 HP / t
Maximum speed / Reverse speed: 56 / -15 km / h
Rotation speed: 39.0 ° / s
Turret rotation speed: 46.9 ° / s
Ground resistance: 1.055 / 1.438 / 2.397
View range: 350 m
Radio range: 430 m
Hull armor: 50/40/30
Turret armor: 50/35/30
Gun: 75 mm wz. 36/37
Damage 135/135/175
Penetration 135/175/38
Rate of fire: 10.788
Average damage per min: 1 456.4
reload time: 5.562 sec
Dispersion at 100 m: 0.374
Aiming time: 2.01 s
Depression / elevation: – 8 ° / + 15 °
Gun: 75 mm wz 22/24
Damage: 110/110/175
Penetration: 108/124/38
Number of shells: 85
Bullet speed: 925 m / s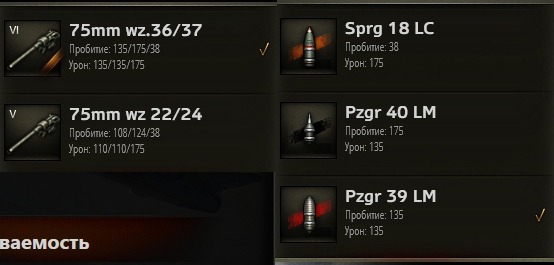 Four-man crew: Commander, Mechanic Driver, Gunner and Loader.
Crosshair Scatter:
after firing: 3.836;
during turret rotation: 0.115;
while the vehicle is moving: 0.24;
during vehicle rotation: 0.24;
during turret rotation at maximum speed: 5.18;
at the maximum vehicle speed: 13.42;
at the maximum vehicle rotation speed: 9.35.
Camouflage Value:
fixed tank camouflage: 26.9%;
tank camouflage in motion: 20.2%;
fixed tank camouflage: 6.64%;
moving camouflage of a tank: 4.99%.
source – wotexpress and rykoszet.info