This is the T54E2 "Versatile Lord" because the weaknesses of this American tank are compensated by significant advantages. For example, the accuracy of the gun is 0.4 which is difficult to consider as ideal – but with penetration of 226mm on standard ammunition. Of course, 14 seconds of loading time isn't ideal, but we have 390 alpha damage and the possibility of regularly inflicting damage with standard ammunition is certainly of great importance.
---
Questo è il "Versatile Lord" T54E2 perché i punti deboli di questo carro armato americano sono compensati da vantaggi significativi. Ad esempio, la precisione del cannone è 0.4 che è difficile da considerare come ideale – ma con una penetrazione di 226 mm su munizioni standard. Ovviamente, 14 secondi di tempo di caricamento non sono ideali, ma abbiamo 390 danni alfa e la possibilità di infliggere regolarmente danni con munizioni standard è certamente di grande importanza.
---
Tier: HT-8, USA, premium
HP: 1 500
Engine power: 800 hp
Weight: 49.539 t
Maximum load: 55.00 t
Power per tonne: 16.15 KM / t
Maximum speed / reversing speed: 45 / -17 km / h
Rotation speed: 35 ° / s
Turret rotation speed: 35.5 ° / s
Ground resistance: 1.342 / 1.63 / 3.26
Visual range: 400 m
Signal range: 745 m
Hull armor: 152,4 / 76,2 / 40
Tower armor: 250/140/140
Gun: 105mm Gun T140E3
Damage 390/390/480
Penetration 226/255/53
Rate of fire: 4,534
Average damage min: 1 768.3
reload time: 13.233 sec
Dispersion at 100 m: 0.384
Aim time: 2.88 s
Depression / elevation: -10 ° / +20 °
The four-man crew: Commander, Driver-mechanic, Sight-loader, Loader.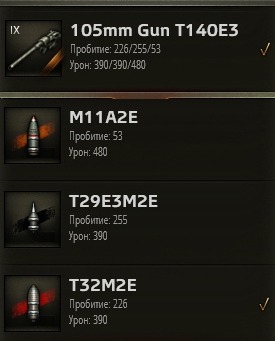 Scattering of the Sight:
after firing works: 3,836;
during turret rotation: 0.096;
while the vehicle is in motion: 0.144;
during vehicle rotation: 0.144;
during the turret rotation with the maximum speed: 3.26;
at the maximum vehicle speed: 6.47;
at the maximum vehicle rotation speed: 5.03.
Camouflage value:
fixed tank camouflage: 9.4%;
tank camouflage in motion: 4.7%;
camouflage of an immobile tank shooting: 1.86%;
camouflage of a shooting tank in motion: 0.93%.
source – rykoszet.info